Mercedes Use Lewis Hamilton to Join Ferrari F1 in a Hilarious Social Media Trend
Published 04/24/2021, 5:20 AM EDT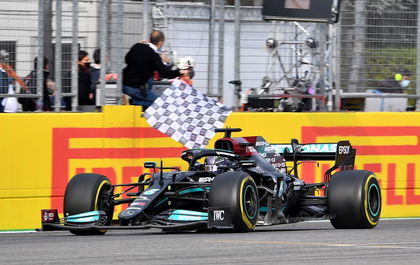 ---
---
It's no secret that Mercedes F1 has one of the best social media accounts going around. The Silver Arrows' social media admins are just as good as their drivers and the overall team in general. The German team just simply wishes to be the best in every area, it seems. In their latest post, they join the bandwagon of a popular trend by making Lewis Hamilton the central theme whilst also taking potshots at the critics of the seven-time world champion.
ADVERTISEMENT
Article continues below this ad
The tweet they posted showed a picture of Lewis dressed in his racing suit with a helmet in hand. On his side, there is a sort of measure that is supposed to depict what Hamilton 'consists of.'
ADVERTISEMENT
Article continues below this ad
The larger measure is one that depicts all of Hamilton's quite ridiculous and jaw dropping achievements. While another smaller measure with the claim that he is the greatest F1 driver of all time.
In essence, the tweet showed that despite being statistically the best driver to grace the sport, there are very few who claim him to be the best there ever was. In fact, critics more often than not tarnish all that he has achieved by pointing out the fact that he did all that whilst driving the best machine on the grid. A fellow rival also claims his dominance has made the sport a bit boring.
Mercedes weren't the only one to take part in this trend, Ferrari join in too
The Brackley-based outfit's fierce rivals Ferrari also did this trend. But unlike Mercedes, they featured both of their drivers, Charles Leclerc and Carlos Sainz.
ADVERTISEMENT
Article continues below this ad
For Leclerc, the tweet claims a certain percentage of him is Lord Percival, a slightly larger percentage is Leclerc being a skilled padel player, and a third measure refers to him as the youngest Scuderia driver to win a race.
As for Sainz, his personality break-up involves chili, golf player and smooth operator. All these are references to certain famous incidents regarding the Spaniard.
Ferrari weren't really renowned for their social media game. But they have stepped up in recent times ever since the 2021 season began. It will be interesting to see if any other team joins these two in copying the trend.
ADVERTISEMENT
Article continues below this ad