Mercedes Director James Allison Explains Lewis Hamilton's Punishment at Silverstone
Published 07/21/2021, 3:17 PM EDT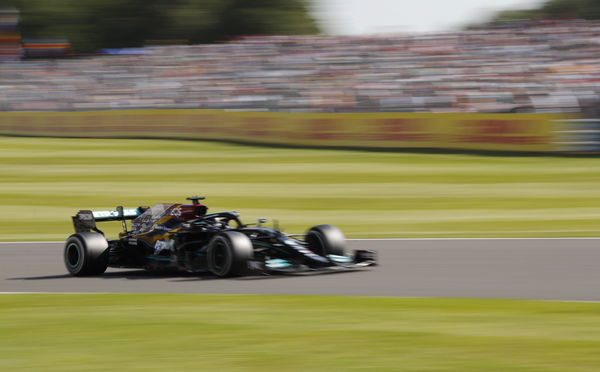 ---
---
It's that time of the week when the F1 teams look back on the race weekend and share their thoughts with the fans. McLaren has its Unboxed videos and Mercedes has its popular Race Debriefs, where they answer questions tweeted to them.
ADVERTISEMENT
Article continues below this ad
It's a good way to engage with fans. The British GP weekend was a dramatic one for the Silver Arrows. In this week's video, technical director James Allison answers the burning questions.
A very controversial question: Do you think the stewards were fair regarding the penalty? Allison explains the situation. "We were concerned after the incident, and prior to the restart to make sure that the stewards had read and were following the FIA's internal guidance to stewards on rights and wrongs of overtaking."
ADVERTISEMENT
Article continues below this ad
At the garage monitors, Lewis' move looked valid. Allison adds, "As far as we were concerned… the maneuver that Lewis did, was absolutely in line with the FIA's overtaking guide." 
James then patiently described the practical aspects of overtaking, summarizing that Lewis was substantially alongside, and his front axle was well beyond the midpoint of the Red Bull. Hence, he didn't have to cede his position from Verstappen, and his move was valid.
He rounds up his argument by saying, "I did feel it was harsh to get the penalty. I realize not everyone agrees with that but I still believe that to be the case… whether Copse is a fast corner or a slow corner makes no difference."
Mercedes boss Toto Wolff's take
Toto Wolff believes, "It takes two to tango." In an interview, he explains the incident had two great drivers race each other. "When nobody is prepared to give in, then these kind of situations can happen." He doesn't take any sides but stands for his star driver.
ADVERTISEMENT
Article continues below this ad
Concerning the penalty, Wolff commented, "The stewards think 10 seconds was appropriate. I guess because both drivers were part of the accident, not one alone. It's always much more nuanced."
As the debates increase, it will be interesting to see how both championship contenders defend themselves when they meet again in Hungary.
ADVERTISEMENT
Article continues below this ad
Watch this story: Ugliest Moments in Hamilton-Rosberg Rivalry