Mercedes F1 are Not Looking Forward to a Particular Episode of Formula 1: Drive to Survive
Published 02/17/2020, 8:15 AM EST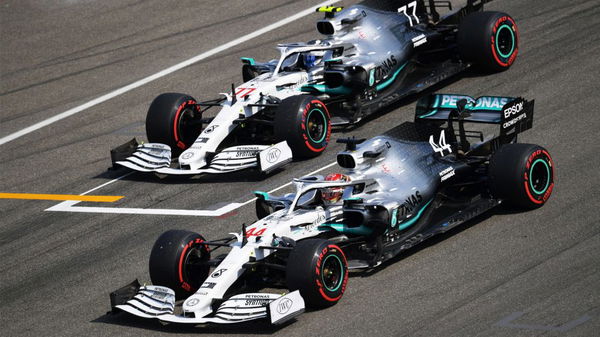 ---
---
The 2019 German Grand Prix was a race to forget, for the Mercedes F1 team. Lewis Hamilton got into all sorts of scrapes and finished well down the pack. On the other side of the garage, Valtteri Bottas also had a miserable race, capped with a crash near the end.
ADVERTISEMENT
Article continues below this ad
Needless to say, Netflix immediately pounced on their woes, as it made for excellent content. Luckily, Mercedes looked on the bright side of the matter and began to continuously tease the segment about the German Grand Prix. In a recent Twitter post, the team joked that they would probably watch it very reluctantly.
We'll be watching the Germany episode from behind the sofa! 🙈@F1 Drive to Survive Season 2 hits Netflix globally from February 28!

— Mercedes-AMG F1 (@MercedesAMGF1) February 17, 2020
ADVERTISEMENT
Article continues below this ad
However, the Red Bull team replied to the thread and were not the least bit sympathetic. This was evident when the Austrian team talked about how they would enjoy the episode. This was emphasised when it posted a GIF of Max Verstappen munching on popcorn.
Even the likes of AlphaTauri, McLaren and Alfa Romeo expressed their excitement on Twitter. Needless to say, everybody is thrilled to see the new Drive to Survive trailer and cannot wait for February 28th.
ADVERTISEMENT
Article continues below this ad
Mercedes F1 in Germany: A Series of Unfortunate Events
That weekend was supposed to be special for the German outfit. Aside from being a home race, the team also unveiled a special one-off livery for the weekend, to celebrate 125 years of racing. Little did they know what awaited them on race day, especially when the sky fell on everyone's heads.
As mentioned earlier, Lewis Hamilton had all sorts of adventures, ranging from several off-track excursions to penalties. The latter was because he entered the pit lane in an incorrect manner, a stunt that did not impress the stewards.
ADVERTISEMENT
Article continues below this ad
Meanwhile, Valtteri Bottas was left to fly the Mercedes flag at home, but was unable to catch Max Verstappen. Later on, Bottas lost control  of his Mercedes F1 and crashed out, and Mercedes' nightmare was finally over.