Mercedes F1 team gave Valtteri Bottas a perfect present for valentine's day. Valtteri got his hands on the 2020 car, W11. He became the first one to drive the new car. And he talked about it in a video posted on the team's Twitter account.
His recent videos on the team's Twitter feed have been wildly popular.
Read More: Mercedes F1 Reveals Bottas 3.0 with a Viking Side
Valtteri Bottas was the first man to get the chance to take the W11 for a ride. Mercedes launched its 2020 challenger earlier today. Notably, the 2020 livery was launched a few days back in an event organized with their new sponsor IENOS.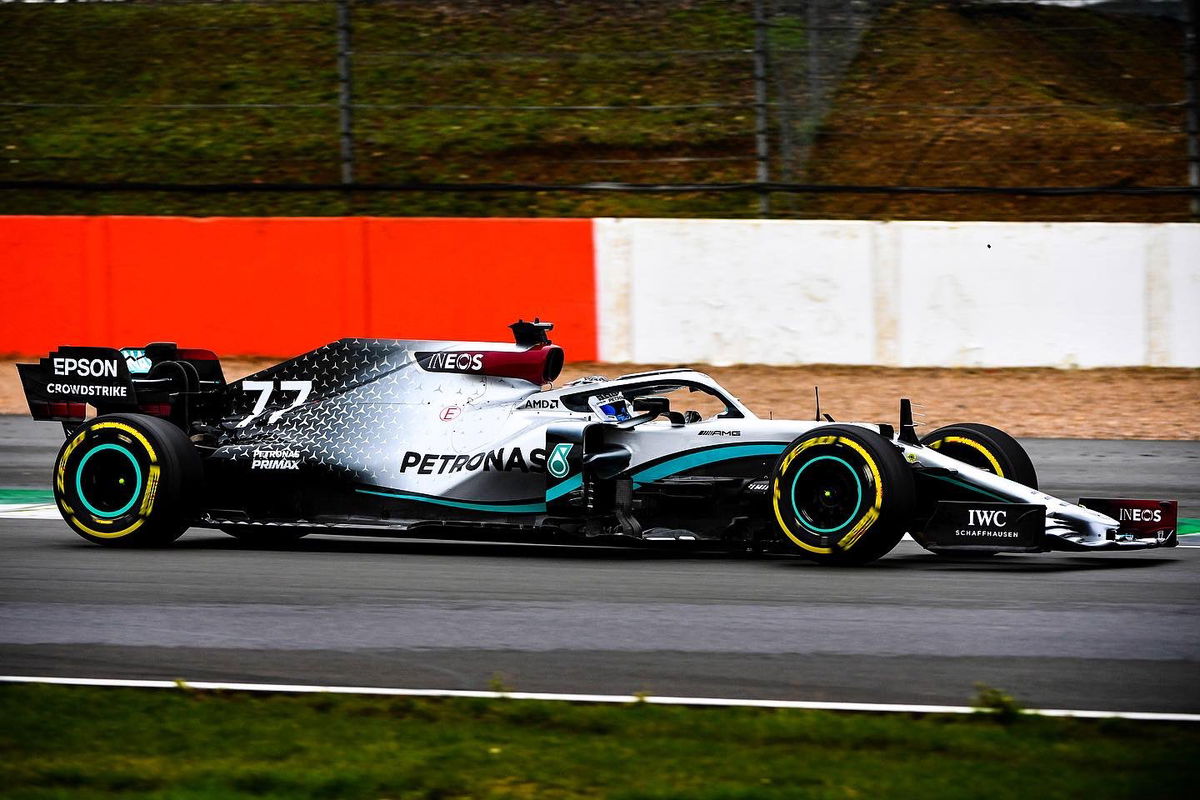 The Finn expressed his happiness for getting the first drive on W11 around Silverstone. And talked about his experience with the new car.
Valtteri said, "Just had the first few laps in the W11, always pretty cool to be the first one to drive it,"
Talking about the car he added, "Initial feeling, good, everything works that's a start. Nothing really wrong with the car at this point, obviously it is more like checking the system, making sure everything works and getting a good feeling of the car."
So @ValtteriBottas, will there be a second date… 😉 #W11 #ValentinesDay pic.twitter.com/KxW9qC2b2U

— Mercedes-AMG F1 (@MercedesAMGF1) February 14, 2020
Also "I'm sure there's still lots of feedback to give to the guys. And they have lots of data to go through over the next few days before we start testing to make further improvements for Barcelona."
Ending his statement he jokingly said that he couldn't have asked for a better valentine's day.
Valtteri's Mercedes F1 Journey
2020 will be a major year for Bottas. After a terrible 2018, last season was absolutely an improvement. He completed the season with a second position in the Drivers' Championship. And won four races. His strong start of 2019 was sufficient to get an extension for 2020. Yet his desires for this year will be to challenge his teammate, Lewis Hamilton. The ex Williams F1 driver joined Mercedes F1 in 2017 after Nico Rosberg's retirement. And his spot in the team has been a topic of criticism ever since.
Just last year it was speculated that Esteban Ocon will his seat in 2020. Before his contract was extended and Econ's departure to Renault F1.