"I Have Never Done Such Things"-Ferrari Boss Binotto Takes a Massive Dig at Toto Wolff
Published 10/30/2020, 3:08 AM EDT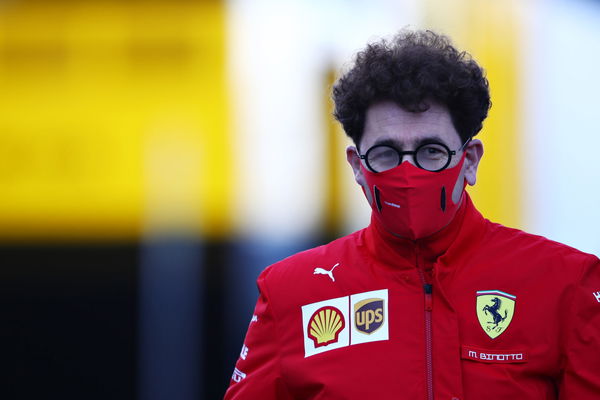 ---
---
Mercedes and Ferrari have always been fierce rivals on the grid. It is understandable that this rivalry also trickles down to their respective bosses.
ADVERTISEMENT
Article continues below this ad
In a recent interview, Binotto commented on Wolff's discussion with the German duo of Sebastian Vettel and Mick Schumacher in front of Ferrari's garage during the Eifel GP weekend.
During the interview, Binotto was asked about the reason behind his hatred for Wolff. He said, "I wouldn't talk about hatred, but respect. I don't want to beat him, I want to bring Ferrari back to victory."
ADVERTISEMENT
Article continues below this ad
The German trio was in a discussion during the weather affected Free Practice Session at the Eifel GP. Binotto said in the interview, "The chat with Vettel and Mick in the pits? I have never done such things and will never do it "
For some reason, it seemed like Wolff having a discussion with Sebastian and Mick ticked Binotto off in the wrong way. The Ferrari boss acknowledged that because Wolff is the leader of our main sporting rival, sometimes things get intense.
However, he did mention that as a team boss, he would have never done what Wolff did in front of Ferrari's pit.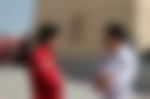 Ferrari and Mercedes- The boss' feud
It is no secret that the bosses do not see eye to eye. The feud has been going on for a while now. It was earlier reported that Wolff refused to sympathize with Binotto over Ferrari's struggle this season and called the team out for its poor performance.
Meanwhile, Binotto responded that the differences are caused because of a different leadership style. He called out Wolff for talking about another team. Moreover, Binotto claimed that the differences remain because he refuses to be Wolff's yes-man.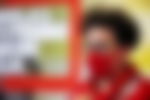 Binotto also explained Ferrari's priority for the next season. He seems confident that Ferrari will start fighting for podiums in 2021.
ADVERTISEMENT
Article continues below this ad
On one hand, under Wolff's leadership, Mercedes have completely dominated Formula 1. Whereas, under Binotto's leadership Ferrari is going through one of their worst Formula 1 seasons.
Binotto has assured the F1 community that he has the backing of his bosses. Although, it remains to be seen whether he can turn things around for Ferrari next season.
ADVERTISEMENT
Article continues below this ad