Mercedes Self-Trolls the AMG Stickers on Its 2021 F1 Challenger W12
Published 03/05/2021, 2:00 AM EST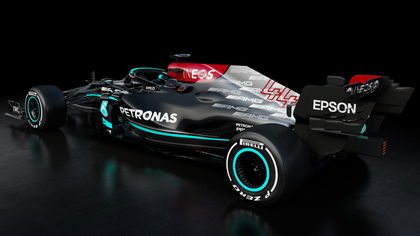 ---
---
Mercedes AMG is one of the undefeatable teams in Formula 1 over the past decade, and that isn't just subjected to the performances on the track. The Silver Arrows have been equally hyped up on social media as well, and their recent post on Twitter says it all.
ADVERTISEMENT
Article continues below this ad
The Brackley outfit recently unveiled their 2021 challenger, W12, which unsurprisingly had the Black color dominating most parts of the car. However, unlike last season, this year's car sported a transition from Black at the front to Silver at the back.
What's more, Mercedes opted to print the name of their performance brand, AMG, all over the rear fin, subsequently delivering a refreshing livery for the fans. And Mercedes found a lighter side to this interesting W12 livery.
ADVERTISEMENT
Article continues below this ad
Mercedes's hilarious Twitter post
Through Twitter, the Silver Arrows created a meme based on the multiple AMG stickers over W12. Consequently, this specific meme left the followers cracking up quite hard.
Most of the fans claimed that the Mercedes' post was the best F1-related post of the year 2021. And it wouldn't be a surprise if it actually turns out true.
The team used the meme, which used to be one of the most trending ones back in the early 2010s. Inside the image, the caption read, "*Slaps W12* This bad boy can fit so many AMG logos on it."
Mercedes used the meme to throw a question toward the fans, "Room for a few more?", hinting at the team's interest in adding more such AMG stickers on the car.
The meme depicts a mock conversation between a salesman and the potential buyer where the dealer slaps the car's top and tries convincing the buyer to grab hold of the car by revealing its hilarious secret.
AMG overshadowing Mercedes' presence
The Brackley outfit started their first F1 campaign simply as Petronas Mercedes GP. However, over the very next year, AMG joined the club, as the team underwent renaming – Petronas Mercedes AMG.
And since then, AMG has slowly been finding its way as a more valuable brand than its parent company, Mercedes. This statement proved to be true when the team removed the covers off the potential championship-winning car, W12.
The car's fin was entirely filled with AMG stickers shading from White to Grey color, and their presence almost goes up to the back-end of the car. Hence, this leads to questions over the possibility of AMG taking over as a fully functioning F1 team soon.
ADVERTISEMENT
Article continues below this ad
However, will they? Could Mercedes give way to their subsidiaries by as early as 2022? Only time will tell.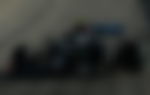 ADVERTISEMENT
Article continues below this ad