Mercedes Weren't Worried About Lewis Hamilton's 'Smoky' Brakes During the Tuscan Grand Prix
Published 09/16/2020, 10:31 AM EDT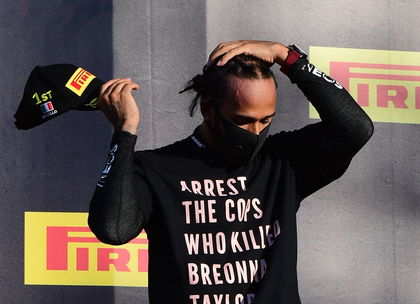 ---
---
Mercedes and Lewis Hamilton suffered a scare in Mugello. The Italian track requires less brake cooling. Therefore, Mercedes was running with smaller ducts, which resulted in a stark rise in temperatures on race day.
ADVERTISEMENT
Article continues below this ad
So much so that there was a considerable amount of smoke emanating from the 6-time World Champion's front left tire. However, as he resumed after the red-flag, the heating extinguished and everything was normal in no time.
"I had a separation of my front brake temperatures by nearly two hundred degrees," said Hamilton. "So I was pushing them very hard to bring the one that was down equal, and I got them up to a thousand degrees, and I tried to cool them through the last corner and all the way to the start.
ADVERTISEMENT
Article continues below this ad
"And I got to the grid and there was a lot of smoke coming, and I was definitely worried as I think I saw a flame at one stage, which is not good because that burns all the interior of what is in the upright.
"So fortunately the start got underway relatively quickly, and I didn't have a problem from there on, but it was definitely on the limit."
Mercedes race engineer to the rescue
The Head of Race Engineering, Andrew Shovlin, dismissed all woes and worries. Taking a more technical approach to the issue, he declared that the team was not concerned about the issue.
"Not particularly. The brake cooling is relatively closed up here, you don't do a lot of braking, so you need to close the ducts to actually get the temperature. And the problem is if they're working, there's not a lot of air going through.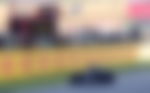 Andrew even offered a solution to the problem. Burying out the concept of sustaining greater damage, he pointed out that some smaller damage could've hampered the car.
"As soon as you get going, it'll go out. The worry is only whether you burn some of the carbon work, the cake tins, all the carbon work round the upright. And that can cause a bit of grief.
ADVERTISEMENT
Article continues below this ad
"It didn't look particularly bad, but saying that we'd rather not have it than have it. But it wasn't causing a great deal of panic, to be honest."
Will the problem recur further?
Incidents like this tend to scare everyone out there, especially the driver. Although it has been pointed out that there's no major cause for concern, it does induce a sense of trepidation.
ADVERTISEMENT
Article continues below this ad
The upcoming tracks demand greater braking. Mugello was a considerably lenient track, however, this leniency is a luxury that other tracks won't offer.