Mercedes Win the Internet as Toto Wolff's Infamous Pose Eclipses NASA Mars Breakthrough
Published 02/19/2021, 11:06 AM EST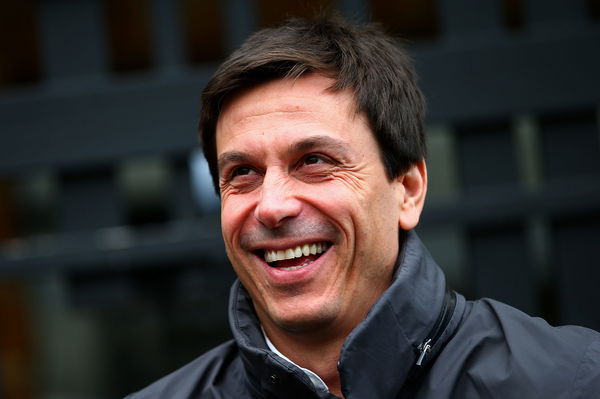 ---
---
It is a landmark week in aerospace. NASA confirmed on Thursday that it successfully landed its Perseverance rover on the Planet Mars. So, in this day and age of social media, NASA moved quickly to make the announcement on Twitter. And Mercedes took full advantage of it.
ADVERTISEMENT
Article continues below this ad
The Silver Arrows tickle the funny bones of their followers on Twitter. It has gained quite a cult with its quirky posts.
"Hello, world. My first look at my forever home,"
read
the tweet from the Perseverance Mars Rover account with a view of the dusty planet.
However, Mercedes stole their thunder in splendid fashion. To NASA's tweet, they replied with a picture of Team Principal Toto Wolff seemingly on Mars and sneakily looking inside the Rover. Watch it for yourself below –
ADVERTISEMENT
Article continues below this ad
A Mercedes follower predicted their move on social media?
However, it may not be an original comedy or simply a coincidence, maybe. When NASA made the announcement yesterday, a follower replied with this infamous pose to Toto –
"Can @MercedesAMGF1 explain why toto was the first picture that the NASA rover saw on Mars omg??"
And when the German outfit's social media account tweeted it out, he tried to draw their attention. The Admin responded with a laughing emoji.
Red Bull also joins in on the act
They were not the only F1 team to acknowledge this great accomplishment by mankind. Red Bull, who are themselves no slouch in the marketing department came out with their own tweet. However, the tone was more congratulatory than quirky.
They posted a picture of Max Verstappen and former driver Daniel Ricciardo visiting NASA's headquarters in Houston. It is from the year 2017 and they clicked it during the race weekend of the US GP 2017.
ADVERTISEMENT
Article continues below this ad
It would be great for the fans if Red Bull can carry their fight on social media to the racing track. While they are celebrating a great achievement today, they would want the champagnes bottle to come out at the end of the 2021 F1 season.
ADVERTISEMENT
Article continues below this ad