Yamaha Boss Reveals Crazy Details About Lewis Hamilton and His Excitement During the Seat Swap with Valentino Rossi
Published 05/02/2020, 2:40 PM EDT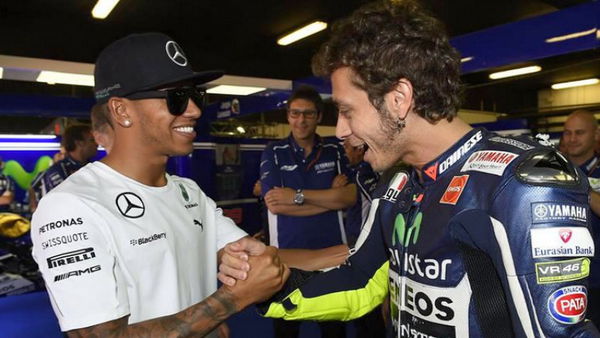 ---
---
Many Lewis Hamilton fans are aware that the Mercedes superstar loves his cars and bikes. So, when Yamaha's MotoGP team offered him a chance to swap machines with Valentino Rossi, he was ecstatic. However, MotoGP team director Massimo Meregalli revealed that they had to reign in the overeager F1 champion.
ADVERTISEMENT
Article continues below this ad
When the 2019 MotoGP and Formula 1 seasons concluded, Monster Energy organised a special event. The energy drinks company is a major sponsor of both Hamilton and Yamaha, So, they organised a ride swap between Hamilton and MotoGP legend Valentino Rossi in December at the Ricardo Tormo circuit in Valencia.
This is the first time, Lewis Hamilton rode a MotoGP bike. Meanwhile Rossi piloted the championship-winning 2017 Mercedes. Speaking to Motorsport.com in an interview, Meregalli confessed that Hamilton was extremely eager.
ADVERTISEMENT
Article continues below this ad
In fact, he even arrived at the circuit bright and early and almost went out straight away. However, the team intervened, citing dangerously low circuit temperatures, as early morning in December is never a good idea.
"Well, it was a nice day," Meregalli said. "They thought it was just a promotional opportunity, but it wasn't like that. Vale was put in the position to do some good practice shifts at the wheel of the Mercedes."
"He [Hamilton] showed up to the circuit very early and we had to stop him because he wanted to get on the bike at 9am, but it was cold."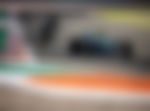 ADVERTISEMENT
Article continues below this ad
Lewis Hamilton wanted to head out immediately
Unfortunately, Valentino Rossi didn't help matters when he arrived late. In addition to that, Monster wanted Hamilton out on the track as soon as possible. However, Yamaha advised Hamilton that running on track on a December morning before 11am was not possible.
So, with two hours wastes, Lewis Hamilton tried to make up for it out on track. Prior to the MotoGP run, he had limited track day experience, with his most recent outing earlier that year. He rode a Yamaha R1 with World Superbike duo Alex Lowes and Michael van der Mark.
ADVERTISEMENT
Article continues below this ad
Hamilton had a fairly successful run in spite of suffering a small crash. However, Yamaha bosses raised plenty of eyebrows owing to his impressive performance.
"He had ridden a motorcycle only eight times before getting on a MotoGP bike, so in my opinion what he did didn't hurt him," Meregalli added. "Then it is clear that we tried to put [the bike] in the best conditions, with a wet [engine] map and with tyres that were not the ones we normally use, also because we could not use them by regulation. It was windy, it was cold, so the conditions were not ideal, but he stopped only when we showed him the chequered flag."