"More Dangerous Than Nukes": Despite Elon Musk's Alarming Concerns, Frederic Vasseur Set to Bank on a Dangerous Weapon to Solve Ferrari's Issues
Published 01/21/2023, 12:30 PM EST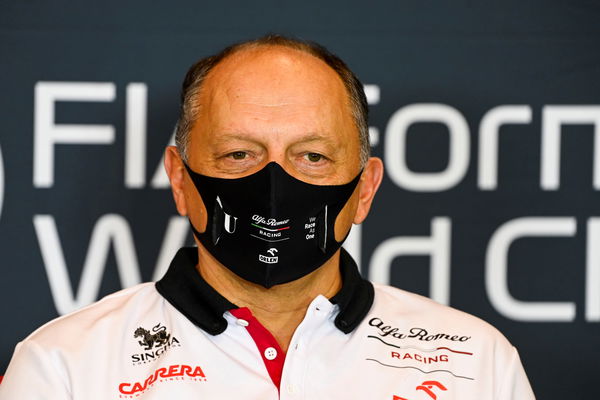 As the world continues to develop further in its data collection and use, artificial intelligence is the new forte to go about. Despite instrumental warning from the tech mogul Elon Musk, Ferrari's Frederic Vasseur feels AI will be the ultimate destination for data analysis and strategy when it comes to the future of F1.
ADVERTISEMENT
Article continues below this ad
Despite so many positives about artificial intelligence, one of Silicon Valley's leading men, Musk has already warned the world about its potential danger. As per the New York Times, the American business tycoon alerted that artificial intelligence is "potentially more dangerous than nukes."
However, the new Ferrari boss feels AI will be the future when it comes to making the F1 strategy. Talking to Racecar Engineering, Vasseur said, "The database for the use of artificial intelligence for doing the complete strategy of the race has yet to arrive, but teams are well on the way to being able to do something like this soon."
ADVERTISEMENT
Article continues below this ad
"You could imagine that the software could eventually have the information to take into consideration the track, conditions, the number of pit stops, the relative position between drivers and when there is a chance for an incident to give you the probability of a safety-car on the upcoming lap, or something like this," concluded the Scuderia Ferrari boss.
Why Frederic Vasseur is conscious of Ferrari and their strategy?
Ferrari had a great challenger in 2022. The F1-75 from the Italian team seemed to be the strongest contender for both driver's and constructors' championships at the start of last season. However, the title dream remained as it was after the Maranello-based team failed to keep its momentum going, due to reliability and strategic issues.
ADVERTISEMENT
Article continues below this ad
Leaving aside reliability issues, the Prancing Horse had multiple strategic blunders in 2022. This was a sector where Red Bull Racing trumped them and won races when they were not expected to, whereas Ferrari threw race after race.
Among many such examples, the 2022 Monaco Grand Prix remained the top example where the Italian team called both Carlos Sainz and Charles Leclerc to pit, together. Leclerc, who was leading the race until then, had to wait in line behind his teammate and, as a result, lost the lead and the win to Red Bull's Sergio Perez.
ADVERTISEMENT
Article continues below this ad
WATCH THIS STORY: Lewis Hamilton Warns F1 Over Ban: Chop My Right Ear With Piercings Welded On
As the Maranello-based team gets ready to overcome the 2022 deficits, strategy is to be a significant ground to look after, and for this Frederic Vasseur will look to bank on artificial intelligence for now and in the near future apart from pointing out Charles Leclerc's game plan that is crucial for Ferrari's long-term triumph.
Edited By: Varunkumaar Chelladurai