Most Popular F1 Drivers on Social Media in 2020
Published 12/30/2020, 12:07 PM EST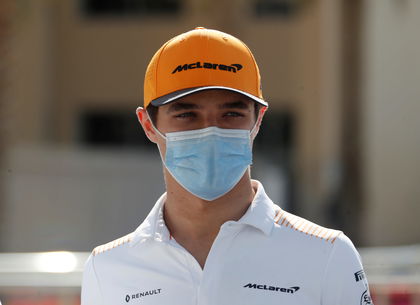 ---
---
During the early phase of 2020, as Formula 1 went into hiding for a while, citing the mass outbreak of the life-threatening COVID-19, F1 drivers started showing up on Social media more often. There was a chain of hilarious banter throughout the season between the drivers.
ADVERTISEMENT
Article continues below this ad
However, not all the contents had a laughable tone, as drivers opted to voice out their opinion on serious matters too. Apart from that, there were some personal emotional posts as well.
The drivers opted to portray such emotions through their presence on just 2 major social media platforms; Instagram and Twitter.
ADVERTISEMENT
Article continues below this ad
Now, let's take a look at how the drivers have fared on social media over this season. How popular have they become?
Most active F1 drivers on social media
Lewis Hamilton
The Briton has been one of the most active F1 drivers on Instagram. Considering the fact that he holds a rather massive fan-following, Lewis, so far, has used his voice in the right way regarding global issues. For instance, he portrayed his hatred toward poaching recently.
Apart from that, the 7-time World-Champion also posted a fair share of images regarding his personal life. The only member apart from Lewis who managed to get into most of the pictures is Roscoe, his loving dog.
The Briton also depicted his interest in fashion through a few images.
It was a wonderful moment to watch, as the image portrayed how much of his father's efforts were hiding inside his record-breaking success in Formula 1. This moment occurred following Lewis' race win at the Turkish GP, where he also won his 7th title.
Lando Norris
The McLaren driver is known to be extremely funny on social media. Although earlier this year, he mentioned that he would be toning down his time on such platforms, he still was active throughout the year.
What's more? Well, he still is funny. Most of his posts can still crack his fans up. However, it is not particularly the image that would be amusing. Instead, it's his captions. Overall, he has done justice to social media, which gave partially gave him his fame.
This has to be one of the most hilarious posts of the 2020 season. Norris shared this photoshopped image to wish his teammate, and good friend, Carlos Sainz on his birthday.
George Russell
The Williams driver had a great year on Instagram this season. He witnessed a massive gain in followers following his stunning one-off weekend with Mercedes in Bahrain. His posts had a mix of emotions, with some being too hilarious, and some rather sorry.
Russell posted the hilarious image on Instagram. The caption read, "I'd like to thank PowerPoint. Without it, I wouldn't be where I am today."
However, there was an unusual face in the comments section- Sergio Perez. He had just lost his seat to Sebastian Vettel in Racing Point. Hence, he jokingly asked for Russell's PowerPoint presentation to get himself a seat for 2021. "Can you make me one?" Perez asked.
Most trended F1 news of 2020
The moment Lewis Hamilton crossed the line in P1 in Turkey, the entire social media went wild. Congratulatory messages swarmed over social media, as Hamilton was trending over almost the entire world that day.
The hashtags, #LewisHamilton, #HAMI7TON, and #7timeworldchampion made their way up to the top of the trending list on the 15th of November this year.
Followed by Lewis, it was Perez. Red Bull's hype ignited the second biggest trend of 2020 when they left the fans hanging prior to announcing the Mexican's signing.
The fans had to wait and hence went crazy on Twitter, calling for the team to reveal their decision. This ignited a massive trend that day. Once Red Bull revealed their decision, the hashtag #AlexAlbon joined the trend as well.
F1 drivers with the highest followers on Instagram
Lewis Hamilton – 21.4M
Charles Leclerc – 4M
Daniel Ricciardo – 4M
Max Verstappen – 3.9M
Lando Norris – 2.4M
Carlos Sainz – 2.1M
Kimi Raikkonen – 2.1M
F1 drivers with the highest followers on Twitter
ADVERTISEMENT
Article continues below this ad
Lewis Hamilton – 6.1M
Sergio Perez – 2.3M
Daniel Ricciardo – 2M
Max Verstappen – 1.4M
Lando Norris – 859.7K
Carlos Sainz – 858.7K
Charles Leclerc – 845.5K
Over the last couple of years, F1 has grown a lot in the social media sector, with many drivers now showing more interest in spending time on Instagram and Twitter.
And it looks like this is just the start. As days go by, fans could witness more posts falling into their hands. Considering the expectations, how good will 2021 be in terms of F1 drivers' involvement in social media?
ADVERTISEMENT
Article continues below this ad