Must-See: Norris & Ricciardo Given a Heroic Welcome at McLaren After Monza F1 Triumph
Published 09/16/2021, 2:59 AM EDT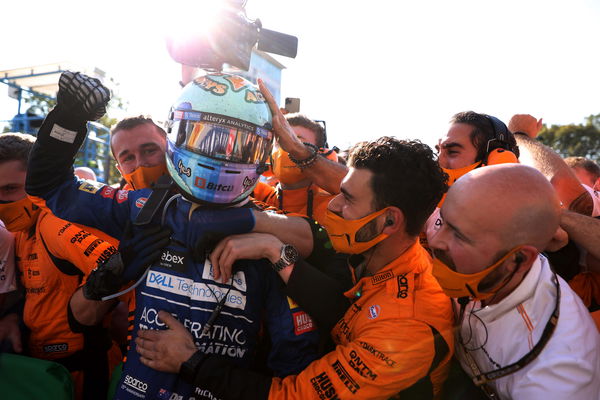 ---
---
It was a happy day in Woking as the McLaren Technological Center welcomed some new bling. Drivers Daniel Ricciardo and Lando Norris brought home their trophies; it was a heartening feeling for the team. After a 170-race drought, there was a victory to be celebrated.
ADVERTISEMENT
Article continues below this ad
The Papaya team welcomed their drivers, who were just as excited. Ricciardo and Norris entered in grand style, amping up their team for the trophies they had in hand. A paramount moment for the team, the 1-2 finish in Monza was a step forward in the right direction.
ADVERTISEMENT
Article continues below this ad
For Daniel Ricciardo, his debut season in papaya colors had a rocky start; disappointment shrouded the first half of the season for the Honey Badger. However, after the summer break, the qualifying session in Spa showed the glimmer of hope that the race in Monza confirmed: Danny Ric had never left.
Further, Lando Norris finally made it a step higher on his podium rankings. Having finished third on four occasions, Norris made the upgrade he was hungry for. Overall, the 1-2, the constructor's trophy, and a newfound footing in the championship battle have been well-earned rewards for the McLaren team.
A dreamy Italian GP for McLaren F1
The big smiles at the MTC are no surprise; the team impressed everybody. Both McLaren cars had showcased some unprecedented speed at Monza, one which helped them out-qualify Lewis Hamilton. Sandwiched in the midst of a championship battle, McLaren filled the gap between Verstappen and Hamilton. Yet, neither driver faltered under pressure.
Norris held back Hamilton while Ricciardo defended his race lead till the end. Effortless and befitting of the celebrations that followed. Further, the points at Monza have put the team comfortably ahead of their rivals on the constructor's board.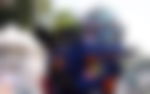 Daniel Ricciardo had shared his impression of the team that weekend. "We really set the tone from the start of the weekend. I think anyone that's seen the demeanor this weekend, they're not surprised. I'm really stoked that it turned into a victory. A big thanks to the team. Not only winning but a one-two's incredible. A lot of hard work went into this and we really earned it out there."
ADVERTISEMENT
Article continues below this ad
Further, Lando Norris lauded the team's strategy and hard work that made the victory possible. "We didn't get lucky, we had the pace, we were in the positions we wanted to be. We had to overtake, we had to defend, we had to do everything."
ADVERTISEMENT
Article continues below this ad
As McLaren gets ready for the Russian GP, the trophies at the Woking HQ will serve as a constant reminder of what the team can achieve.
Watch this story: Lewis Hamilton's Biggest F1 Crashes.