"My Abs Are Feeling it": McLaren F1 Driver Lando Norris Has a Hilarious Reaction After Trying Out Golf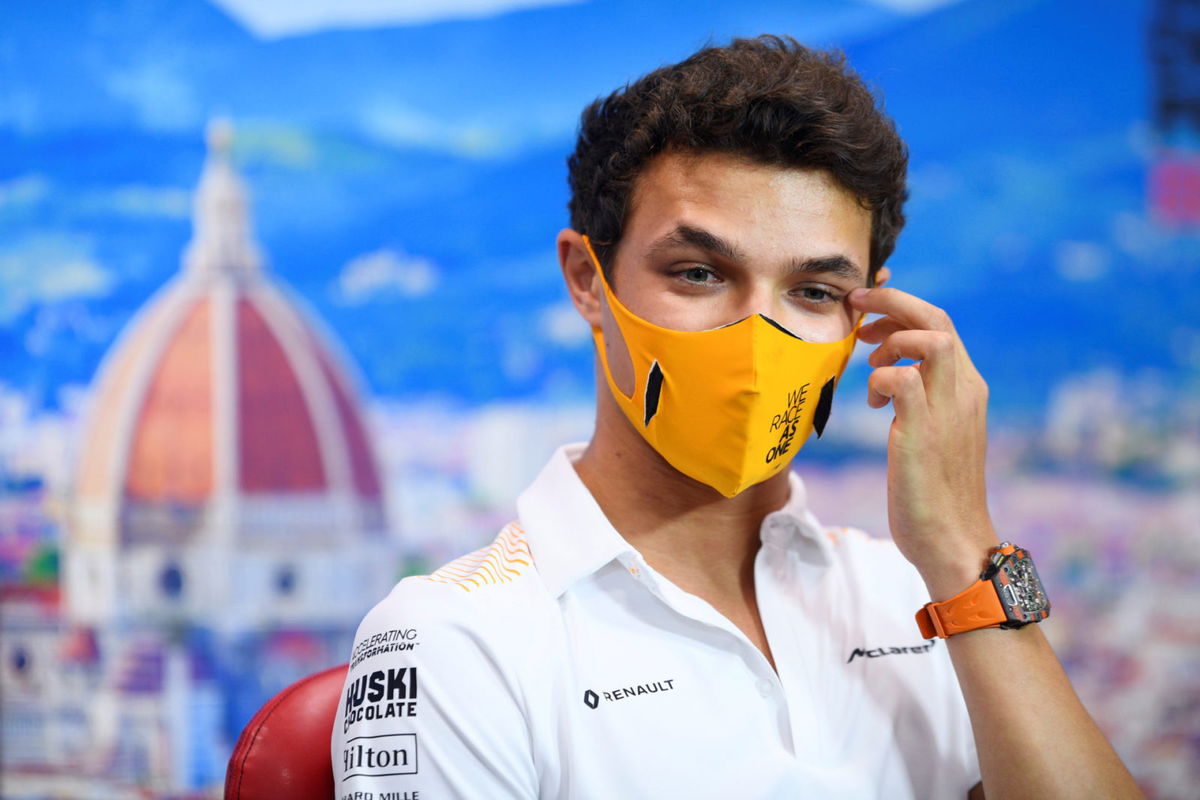 After yet another set of triple-headers, our beloved F1 drivers are homebound for some well-deserved rest. McLaren's Lando Norris has decided to make good use of the short break by trying his hand at a new sport. And by that, we don't mean any sort of online sport/game, but an actual outdoor sport.
The young Briton has given golf a shot and posted a video of himself on Instagram. The caption that followed the short clip read, "1st lesson of golf today! I know it's not amazing but it's my first actual time playing golf seriosuly. What ya'll think?"
For a first-timer, he seemed to do pretty well. At least his pose and swing seemed alright. Obviously, we don't know how many takes and retakes it took for Lando to get the perfect video. But we'll give him the benefit of the doubt.
Norris has usually spent most of his downtime playing video games with his friends and on-track rivals. One could be forgiven for calling Norris a part-time F1 driver and full-time twitch streamer.
The switch from online games to playing a real game was pretty intense for Norris. The 20-year-old took to Twitter and said, "Golf is one of the most physical sports I've done. My abs are feeling it. Am I doing it right?"
Golf is one of the most physical sports I've done. My abs are feeling it. Am I doing it right? 😣😂

— Lando Norris (@LandoNorris) September 19, 2020
Can Lando Norris continue his first-half form into the remainder of the F1 season?
The McLaren man enjoyed an excellent start to the 2020 season with a maiden podium in Austria. However, he has ensured that it was not a one-off event.
Sure, he hasn't clinched a podium since, but he has impressed one and all with his solid performances. Consistency has been key for him and he has only finished outside the Top-10 once, in Hungary.
As things stand, there is every indication that Norris will continue to do well in the next 8 races. Norris has already gone past his entire 2019 points tally (49 points) currently sitting in 4th place on the Drivers' Championship table with 65 points to his name.
He'll be aiming to build on those performances and would want to end the season on a high with perhaps another podium.
The F1 circus will now move to Sochi on September 27th. Norris finished P8 in Russia last season and will want to build on that performance this time around.