"Step Brothers" Josh Allen & Daniel Ricciardo Once Credited Their Wild Friendship to One Shared Personality Trait
Published 12/05/2022, 7:38 AM EST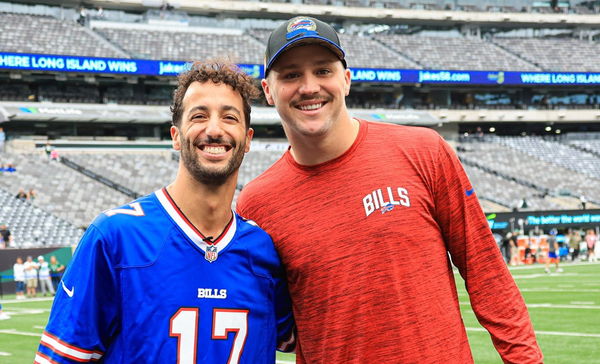 Daniel Ricciardo's love for the US and its motor racing championships is no secret. The man dresses to the occasion for each year's US GP and reveres NASCAR legend Dale Earnhardt Sr. The love is not one-sided though, as the Honey Badger has quite a fanbase in the States. But little did we know he was quite an NFL fan as well. To be more specific, he is a Buffalo Bills and Josh Allen fan.
ADVERTISEMENT
Article continues below this ad
Daniel Ricciardo's fandom for Bills Mafia's quarterback Josh Allen turned into a friendship pretty quickly. The duo met for the first time at the 2019 Monaco GP and instantly hit it off.
ADVERTISEMENT
Article continues below this ad
Josh opened up about how the conversation went with Daniel Ricciardo when they met for the first time. Yahoo! Sport quoted him saying, "We were talking and he was like 'we're Buffalo Bills fans' and they had jerseys and I just thought it was the weirdest thing."
"I think we're very similar in the way that we try to keep things light and we're never too serious, even when we probably should be sometimes."
Daniel compared his friendship with Josh with Will Ferrell and John C. Reilly's in the movie Step Brothers. He told, "It's been like Step Brothers, somehow we just became best friends."
Ricciardo holds the Bills Mafia close to his heart as he feels the team reminds him of his close friends back home.
Ricciardo recently had his first NFL stadium experience when he went to cheer for his favorite team. He posted a video of him holding a giant face cutout of Josh Allen. The Bills were playing away from home against the New York Jets.
Daniel Ricciardo cheered for Buffalo Bills and Josh Allen
Ricciardo arrived early at the stadium to meet his quarterback friend. He even filmed some videos from the venue before the game, which he and the Bills shared on their social media.
ADVERTISEMENT
Article continues below this ad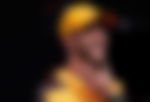 In the video shared by the Buffalo Bills on Twitter, Daniel said, "What's going on Bills Mafia? Big day, big day today. It's my first."
In the video he shared on his socials, Riccardo cheered, "My first Bills day. We're here at MetLife [Stadium] and I'm excited."
ADVERTISEMENT
Article continues below this ad
Watch This Story: Struggling 'Honey Badger' Daniel Ricciardo Once Dominated the Streets of Azerbaijan in Glorious 2017
The outing did not go well for the Australian driver though as the Bills lost the game 20-17. He really must have been heartbroken, given how excited he was to attend the fixture. However, we are sure he and other Bills fans will stay positive as the team is still on top with the .750 percentile. They currently have 9 wins in the bag and are ahead of Dolphins who trail them with a .667 percentile and 8 wins.
Edited By: Ranvijay Singh