Niki Lauda: Family to Return his 10% Stake in Mercedes F1 Back to the Team
Published 01/28/2020, 9:31 AM EST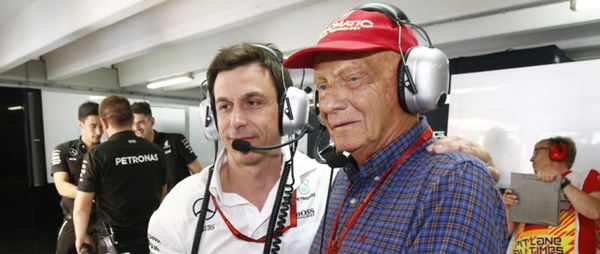 Niki Lauda's son Mathias Lauda has confirmed that Lauda's stake in the team will be returned to Mercedes. The Austrian passed away last year following a prolonged illness. Lauda's death marked the end of an era in motorsport.
ADVERTISEMENT
Article continues below this ad
Niki Lauda's family to return stake
Before his death, Niki Lauda was the non-executive chairman of Mercedes-AMG Petronas. Following Lauda's demise, questions were raised regarding Lauda's stake in the team- which stood at 10%. However, Team Principal Toto Wolff said the issue would be resolved after the summer break.
ADVERTISEMENT
Article continues below this ad
Lauda would often attend F1 races and was very influential within the team. Particularly, with reigning World Champion Lewis Hamilton.
Lauda was the driving force in convincing Hamilton to move from McLaren to Mercedes. Hamilton has claimed that he owed his 5 world championships to Lauda.
Speaking to La Gazzetta Dello Sport, Mathias Lauda said: "This was already foreseen in a contract that was made a few years ago,"
"It was decided that the shares would return to Mercedes within 2020. They don't pass on to families, they simply return to Stuttgart,"
"Motorsport and Formula 1 were really everything to him".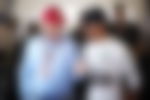 Niki Lauda and Lewis Hamilton
Niki Lauda won three world championships and 25 races in a career spanning 14 years. Lauda's fierce rivalry with James Hunt is still considered one of the greatest in motorsport history. Outside the sport, Lauda was a keen aviation entrepreneur- founding 3 airlines.
Hamilton spoke of Lauda's influence following his death. "If I hadn't had the call all that time, I would be a one-time world champion now, and probably on 22 wins or whatever it was when I was at McLaren," said Hamilton, speaking to Autosport.
"And I sit here a five-time world champion. I feel like I owe him a lot."
ADVERTISEMENT
Article continues below this ad
"The other day it was quite… I didn't feel like I was really ready,"
"I was really in touch with Niki a lot through the past eight months."
"We would be sending videos back and forth to each other and it was always difficult because some days he looked good and he was really perky and [saying] 'I'm coming back, I'm coming strong and I'll be at this race"
ADVERTISEMENT
Article continues below this ad
"Then there's other days where he had immediately lost a lot of weight" reflected Hamilton.
Lauda was quite instrumental in resurrecting the team and moulding them into a dominant force in F1. Mercedes won a sixth consecutive Drivers' and Constructors' World Championship in 2019.