Many believe Ferrari are signing Carlos Sainz as a "second driver" to Charles Leclerc in 2021. After weeks of speculation since Ferrari's official announcement, Sainz finally confirmed the truth. The Spaniard clarified that he hadn't signed any agreements which point towards him being a "number 2 driver".
Carlos Sainz on his Ferrari contract
At 25 and with over a 100 race starts and 5 seasons in F1, Sainz is the perfect mix of youth and experience. More importantly, a valuable asset to the Scuderia. However, many fans remain skeptical of his role within the team. Many reports suggested the Spaniard would be forced to play the "team game" and help his teammate when the need arises.
To a certain degree, this is probably true. Throughout its involvement in F1, Ferrari has always had a clear number 1 and number 2 driver. The team rarely functions with two "alpha" drivers within the team. It was quite apparent last season why Ferrari can't handle two top drivers simultaneously.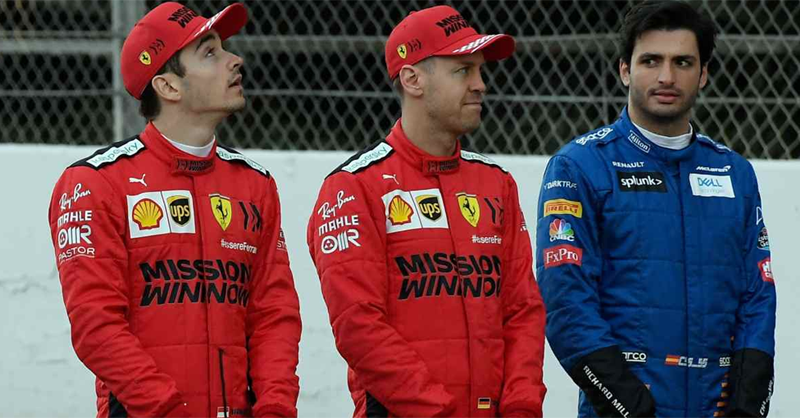 Moreover, with Charles Leclerc on an unprecedented 5-year contract, it's clear Ferrari sees the young Monegasque as the team's future. As a result, Ferrari favoring Leclerc shouldn't come as a major surprise. But that isn't to say Sainz is joining the team as Ferrari's next Barrichello.
If he performs or has a good turn of speed in him, Ferrari won't go out of its way to sabotage his race. At the end of the day, they're also chasing the Constructors' Championship.
Sainz clarified his contract status once and for all, Speaking to Radio Marca, Sainz said:
"No, I have not signed anything that puts second pilot. In my contract, it says, as in all those I have signed, that the team is above the pilot, but does not put anything second or support from anyone. What I know is that I will give everything for Ferrari and I will give everything they need, above all, to try to win. 
"I do not care about the color of the car. I treat all drivers equally, we are all rivals and we must go for all. If there is a complicated situation, I would make the right decision, don't worry. "