Ocon Credits His 'Shock Duo' With Alonso for Maiden Alpine F1 Win at Hungarian GP
Published 08/01/2021, 12:33 PM EDT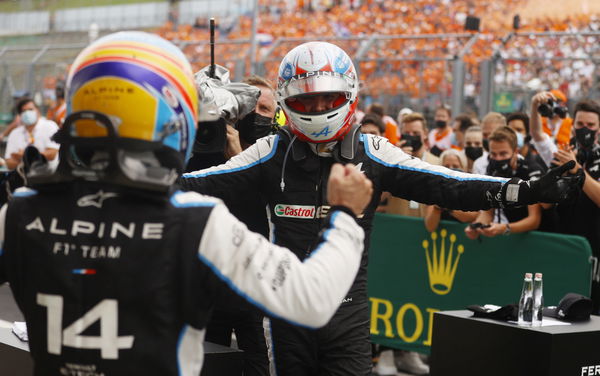 ---
---
Esteban Ocon, the French lad who received a lifeline in F1 through Renault last season, raced to the first-ever Grand Prix victory of his career at Hungarian GP. He gave his everything throughout the race to secure that much-needed P1 for himself and the newborn Alpine F1 team.
ADVERTISEMENT
Article continues below this ad
What's interesting is that apart from his incredible defense against a much pacier Sebastian Vettel, his Alpine teammate, Fernando Alonso's fight against Lewis Hamilton played a massive role in assuring Ocon of the race win.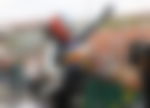 Hence, citing his immense contribution to the win, Ocon credited the two-time world champion for his efforts to keep Hamilton at bay during the latter part of the race.
ADVERTISEMENT
Article continues below this ad
"Congrats to Fernando as well, because I think the win is also.. thanks to him, with the fights that he did. So, yeah, I mean, it's teamwork and all of that. And it's been a fantastic day," the race winner said in the post-race interview on the parc ferme.
"It's been awesome to work with Fernando. I mean, since the beginning of the year, we are forming a real shock duo, I would say. We are working together, wee are pushing the team, you know, to try and improve and get closer to the pack in front."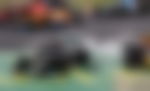 How Fernando Alonso played a hefty role in Esteban Ocon winning the Hungarian GP
It definitely wasn't an easy race for Ocon, considering he had Sebastian Vettel in his rear-view mirrors from the start until the very end of the race.
Hence, a huge chunk of credit goes to him, but his Alpine teammate, Fernando Alonso, too played an enormous role in handing Ocon the race win.
ADVERTISEMENT
Article continues below this ad
A Lewis Hamilton victory was written all over the race, as he was running on a much fresher set of medium tires as opposed to others' much older hard tires. However, his hopes diminished when he ended up behind Alonso on lap 57.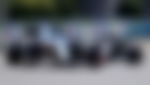 The Spaniard, despite the massive pace disadvantage, defended incredibly well against Hamilton until lap 65, which was enough to keep the seven-time world champion away from the top 2.
ADVERTISEMENT
Article continues below this ad
Overall, Alpine carry home an impressive 35 points, which consequently pushes the French outfit up to P5 from P7. Hence, can Alpine showcase a similar kind of weekend at the Belgian Grand Prix next month to take their fight to McLaren and Ferrari? Only time will tell.
Watch Story: 5 F1 Crashes Which Stunned the World