One Direction Heartthrob Wins Over the LH Army by Picking Lewis Hamilton Over Max Verstappen in Elite List: "He's Got Great Taste"
Published 03/13/2023, 10:00 AM EDT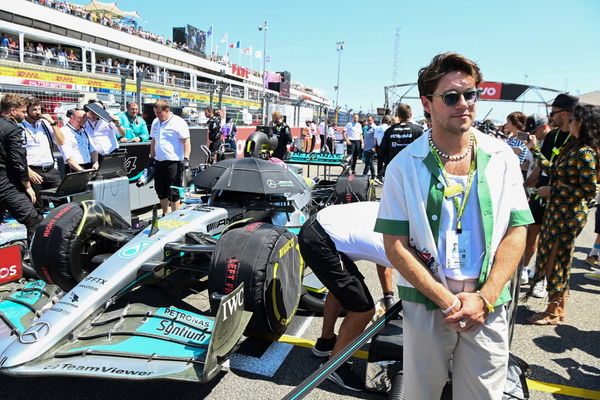 Lewis Hamilton and his link-ups with celebrities are never a new thing to learn for F1 fans. You pick any celebrity from any industry who even remotely knows about F1 and there's a good chance they've heard about Hamilton. But where things get interesting is when a celeb is a big F1 fan and they're asked who their favorite driver is. Then you almost have a 50-50 chance they'll either choose Hamilton or Max Verstappen. Niall Horan, a big F1 fanatic, did not just choose Lewis over Max, but also gave some convincing arguments to back his choice.
ADVERTISEMENT
Article continues below this ad
Over the last two years, Verstappen has risen like a phoenix in F1. However, before that, Hamilton made a name for himself, not just on the track, but off it as well. Watching him hang out with the who's who had become a regular occurrence, and gave his popularity a huge boost. Take NBA legend Shaquille O'Neal for example. When once asked how big of a Formula 1 fan he was, Shaq simply answered, "Lewis Hamilton". That just goes on to show that for many people around the world, 'F1' and the name 'Lewis Hamilton' are synonymous.
Fans go gaga as Niall Horan picks Lewis Hamilton as his favorite F1 driver
ADVERTISEMENT
Article continues below this ad
One Direction's famed sensation is no fake fan of F1. He knows the sport well, has witnessed races in person and definitely carries enough suave to carry himself into the paddocks.
In a recent interview with the YouTube channel Hits Radio, Horan answered some fans' questions. To a question that asked him who his favorite F1 driver was, he answered, "I don't want to sound like a glory hunter but I'm a huge Lewis Hamilton fan. He's a guy I know quite well and obviously an unbelievable driver, seven world championships to his name."
Niall admitted that he liked Max, Carlos Sainz, and Sergio Perez as well, but Lewis was definitely his favorite among the lot.
Have a look at some reactions from fans on Twitter.
Some of Niall's Irish compatriots were proud of him for picking Lewis.
Great taste and excellent choice! Makes me proud to have Niall say that as an Irish representative haha ☘️

— Jadeelf254 (@jadeelf254) March 12, 2023
And then some British fans joined in.
Some fans found a reason to back Niall over his 1D bandmates.
This was definitely a dream come true for the mutual fans of Lewis and Niall.
Watch This Story: Lewis Hamilton's F1 Car Has Its Own Lego Set, But He's Not In It
ADVERTISEMENT
Article continues below this ad
Niall was flexing when he said "a guy I know quite well," while talking about Lewis Hamilton and I am jealous

— cole ◟̽◞̽ (@gldnwallsfLoWer) March 12, 2023
ADVERTISEMENT
Article continues below this ad
Do you agree with his choice? Which 1D member is your favorite? Do let us know in the comments.
Edited By: Varunkumaar Chelladurai