Only F1 Engineer to Work With Senna, Schumacher & Alonso Picks His 'Favourite' Driver
Published 08/27/2021, 5:28 AM EDT

Follow Us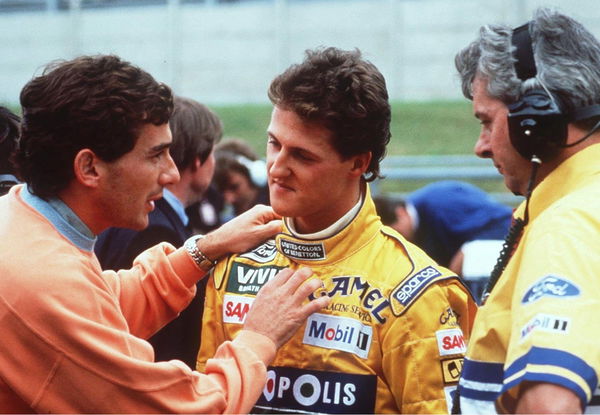 A legend of the sport dawned 30 years ago at the at Spa- Francorchamps; the weekend celebrates Michael Schumacher's debut on the circuit in the iconic green Jordan 191. Pat Symonds, who worked with F1 stars like Fernando Alonso and Ayrton Senna, looked back on working with his favorite driver, Schumacher.
The F1 veteran was the Chief Technical Officer at Williams F1, before which he worked at Benetton, Virgin, and Renault. The British engineer, now 68 years old, is the CTO for Formula 1. In conversation with SpeedWeek.com, Pat revealed that Michael Schumacher stood out from anyone he has worked with.
ADVERTISEMENT
Article continues below this ad
Pat stated, "of all the drivers I've worked with in over forty years of racing, Michael Schumacher is my favorite." He explained that their relationship burgeoned at Benetton. "We just had a great rapport with each other, professionally, but also on a human-personal level."
In the interview, Pat Symonds explained the importance of striking the perfect balance of professionalism and friendship between a race engineer and a driver. Yet, he states that working with Schumacher was incomparable; the driver only looking to improve from one race to the next.
He added that working with the champ was an amazing feeling."It was a dream to work with him in terms of his logic, his dedication, his work ethic, his intelligence, and his ability to drive such a car insanely fast."
Michael Schumacher – the perfect driver
Symonds credited the German's interpersonal skills as a big part of his personality. "He's one of the nicest guys I've ever met in the sport." Schumacher also took the effort to know the team and its employees. Thus, he had the team rally behind him. Everyone was fond of the driver, and " tore themselves apart to help [him]."
Furthermore, Symonds compared Schumacher with the other drivers he worked with. Both Michael and Fernando Alonso were brilliant racers, but their personalities set them apart. "Alonso was also a good leader because everyone respected him, but Fernando was never as captivating as Michael. "
Additionally, Alonso and Schumacher were extremely detailed and data-driven; this is where Senna fell short; even though he was more talented than Michael. "When I was working with Ayrton Senna at the time, he definitely still had a few deficits – in terms of fitness or detailed work."

ADVERTISEMENT
Article continues below this ad
Even so, Schumacher reigned superior. Symonds concluded his analysis, "Michael was incredibly good in every way: his ability to work on his fitness, his understanding of the context or his ability to read a race – everything was just right. So for me, he's the best I've ever worked with."
ADVERTISEMENT
Article continues below this ad
Without a doubt, Schumacher won the hearts of the fans, the sport, and even his teams. Celebrating his legacy, the Belgian GP will remember the mastery of the champion.
Watch this story: Lewis Hamilton's Biggest F1 Crashes