Palmer Exposes Mercedes' Flawed Strategy Which Gave Verstappen Easy Abu Dhabi GP Win
Published 12/16/2020, 7:35 AM EST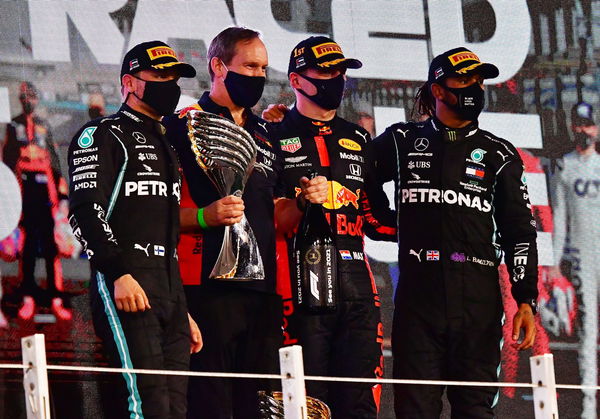 ---
---
Fans deemed the Abu Dhabi Grand Prix to be one of the most boring races of the 2020 season. However, Mercedes and Red Bull would disagree. With a change in power and supremacy, Yas Marina was exciting for four drivers.
ADVERTISEMENT
Article continues below this ad
After an entire weekend of Red Bull dominance, Mercedes can foresee tough competition in 2021.
Max Verstappen, weary of chasing the AMGs the entire season, was demotivated and had accepted that he may have to settle for P3. However, he never gave up, and although he joked about his races, he never stopped pushing the Mercedes cars to the limit.
ADVERTISEMENT
Article continues below this ad
Well, better late than never as Verstappen enjoyed the fruits of his labor.
Pundits have come up with several explanations for the AMGs lacking pace. The most obvious being the MGU-K, sent out with reduced power. However, Jolyon Palmer explains an alternate strategy that Mercedes could have used to hold back the Red Bulls.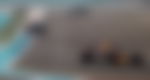 "With two Mercedes in second and third, they had the opportunity to pincer the race leader with a typical split strategy.
"As soon as Bottas had a window to pit into he would have dived in, Verstappen then would have had to cover him off to prevent the undercut, whilst Mercedes could have left Hamilton to go long and have a tire advantage at the end," explained Palmer.
However, for this possibility to have reached fruition, ceteris paribus was a necessity.
Mercedes claimed MGU-K alteration was minor
Jolyon Palmer understands that it was just not the weekend for the Germans. They had two crucial problems choking their performance. First, the abnormality in the Mercedes Power Unit. Secondly, the far from ideal fitness of Lewis Hamilton.
The Mercedes engineers claim toning down the MGU-K should not have had too much of an effect on the form. The modification recorded a minor change in the speed. However, that minor chink kept on adding after every lap, which finally turned into a 16-second gap between Max and Bottas.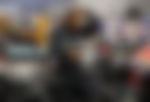 "This [Palmer's strategy] would have relied on Mercedes being quick enough to be in range of Verstappen at the crucial moments, and Hamilton to be on form enough to make the most of the unfolding situation as well, but it certainly would have given them a chance, and the race a different dimension," concluded Palmer.
ADVERTISEMENT
Article continues below this ad
The biggest shock for Hamilton was not his P3 as he knew that he was not in top form. It was the fact that his team had not informed him about the reduced power in the MGU-K. Had he known of that, he could have adopted a different strategy altogether.
Whatever it was, we hope Mercedes and the champ reach clarity.
ADVERTISEMENT
Article continues below this ad