"Perfect Circle of Life": Sebastian Vettel's Emotional Tribute To Generational Friendship With Schumacher Family Leaves Fans Teary Eyed
Published 03/09/2023, 1:00 PM EST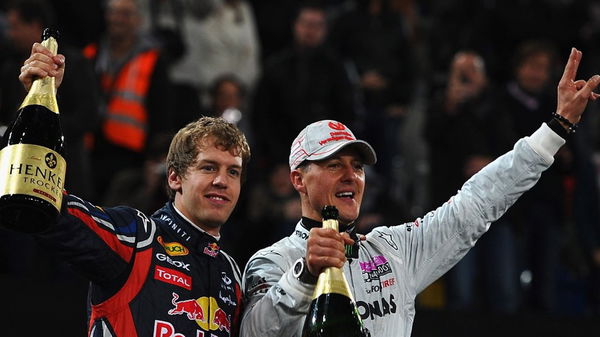 It would be surprising to know that in history-rich sport such as Formula 1, there aren't many driver collaborations that can be earmarked as historic. Be that as it may, one such pairing would be that of 7x champion, Michael Schumacher and 4x champion, Sebastian Vettel. While Schumacher was dominating the world of F1, a young Vettel, Schumacher's protégé, was setting the junior categories ablaze. Schumacher had a profound impact on Vettel's formative years as a racing driver. However, he saw the man as a friend rather than an idol or a competitor.
In 2013, Schumacher had an unfortunate skiing accident that has left him stricken to this day. While this happened, his son Mick was in need of a mentor. And as they say, life does come full circle. In his father's absence, Vettel picked up the mantle. Today, Mick Schumacher and Sebastian Vettel have forged a bond that rivals Vettel's own with Mick's father. But on a seemingly normal Thursday afternoon, the ex-Red Bull maestro took to his Instagram account to share a wholesome tribute that left F1 fans mellowed to their bones.
 

View this post on Instagram

 
ADVERTISEMENT
Article continues below this ad
Sharing a picture of his younger self with Michael and another with Mick, he captioned it, "Friendship from one generation to the next." As soon as Vettel posted this on his Instagram account, fans rushed to the social networking platform to share their reactions.
Fans react as Sebastian Vettel shares emotional tribute to his tryst with two generations of Schumachers
Michael Schumacher, his son Mick and Sebastian Vettel the holy trifecta of drivers universally loved by all the fans. Naturally, such a sweet, wholesome and emotionally charged mention of the trio wouldn't go unnoticed by the fans. One fan even commented, "It's called the perfect circle of Life."
Let's take a look at just a few of the fan reactions from Vettel's tribute on Instagram.
This post by Vettel surely played at the heart-strings of all F1 fans. One fan wrote, "Thanks! I'll be crying for the next 4-5 business days." While another lamented, "sure, i love to randomly cry on a thursday, why not."
"yeah thanks sebastian make me cry why don't u"
For the fans, being able to witness this wholesome moment with everything that has been going on for the Schumachers and Vettel was truly something.
"Michael's first son and Mick's second dad."
"Every time I see you and Micki my heart is full."
"Made my day, thank you seb #keepfightingmichael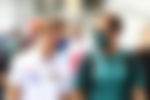 The impact both Vettel and Schumacher have left on the sport is unimaginable. But one fan tried to sum it all up with what these drivers mean to them. "I was rooting for Schumi and Seb and my sporting heart loves them dearly. Now I'm keeping my fingers crossed for Mick."
ADVERTISEMENT
Article continues below this ad
For some, the icing on the cake would be for Vettel to do with Mick what he couldn't with Michael.
"Maybe we see them together with Audi."
"Love to see you as teammates in the future."
ADVERTISEMENT
Article continues below this ad
Watch This Story: Road cars inspired from F1 technology
Can Audi's F1 entry be the wholesome Smick collaboration F1 fans have been pining for?
Edited By: Varunkumaar Chelladurai