Pierre Gasly Brings Flowers to Spa in Memory of 'The Boy in the Orange Helmet'
Published 08/26/2021, 7:37 AM EDT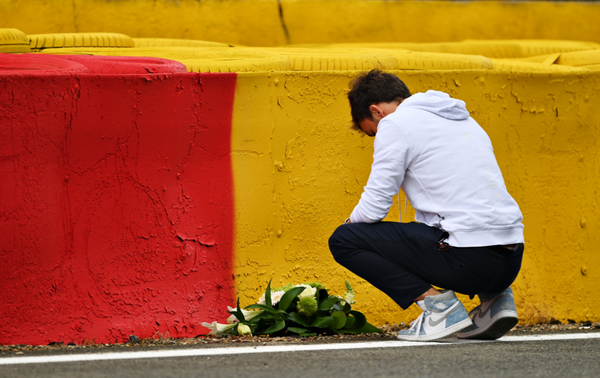 ---
---
As the drivers touch down in Belgium, the race at Spa brings back the rush of the race after the summer break. However, the circuit is also reminiscent of a driver the sport lost too soon, Anthoine Hubert. The French F2 driver met with a fatal accident at the circuit exactly two years ago. Pierre Gasly finds his way to the circuit with a heavy heart.
ADVERTISEMENT
Article continues below this ad
A tough memory for the drivers, especially Pierre Gasly and Charles Leclerc. The trio were close friends from their karting days, and now, two years from the incident, Gasly returns to the spot where he lost his friend.
ADVERTISEMENT
Article continues below this ad
Ever since the accident, Gasly has paid his respects at the Raidillon corner, bringing flowers to the corner. On his track walk this morning, Gasly continued to do so, as he arrived at the circuit with a bouquet of white flowers for his friend.
Pierre Gasly writes about the day
Earlier this year, Gasly wrote a letter about his story; Anthoine playing the lead character in it. Gasly recalled the Quali Saturday on his favorite, "perfect" circuit and how he'd love to watch the F2 races on Saturday. Especially because, " I always make sure to keep an eye on one of my best friends, Anthoine Hubert."
Pierre remembers his friend as the "quickest kid in France." Gasly and Hubert shared the same ambitions of the sport and left the country together to pursue it. It was this that helped the friendship grow. Additionally, Gasly admits that the people surrounding them doubted them; this only brought them closer.
"prove them wrong"

he's done that and better today, anthoine. we all are so proud of pierre today. i know anthoine is watching down on him super proud 💓 pic.twitter.com/190oexkVYQ

— tori + le mans era (@tootwolff) August 30, 2020
"Our dream made us friends. And our friendship gave us the chance to better ourselves." Pierre states that his countryman soon became his brother. When Gasly realized what had happened on the track that day, he didn't believe the news. "I was completely broken. I cried until I couldn't cry anymore. I've never experienced a worse feeling than that in my life. Never."
Since then, Gasly has dedicated his win in Monza and every podium to his friend. "His dreams were my dreams. My dreams were his dreams. And that moment was our moment." And Gasly has promised to take Anthoine's dreams and ambitions with him wherever he goes.
Twitter remembers AH19
Only 22 years old at that time, the 2019 season was Hubert's first stint in F2. With so much left to give to the sport, his demise came as a shock to everyone. Last year, Gasly dedicated his helmet to his friend at the Belgian GP. Using his color pink, the helmet showcased many pictures of the time the two spent together.
Charles Leclerc paid his respects on his Instagram story, remembering his friend and the life lived. Leclerc dedicated his maiden victory at the 2019 Belgian GP to Hubert, having raced for his friend.
Today, Formula 2, MP Motorsport, heads to Spa- Francorchamps for their races. Along with other Motorsport series, they dedicate their weekend to the French driver as well.
ADVERTISEMENT
Article continues below this ad
ADVERTISEMENT
Article continues below this ad
As the memory of  "the boy in the orange helmet" lives on in the sport, this weekend we race for Anthoine. With his friend in his heart, Gasly will surely be motivated to dedicate a win at Spa to his friend.
Watch this story: 5 F1 Crashes Which Stunned the World