Pirelli F1 Boss Reveals Possible Reason Behind British Grand Prix Tire Failures
Published 08/03/2020, 6:13 AM EDT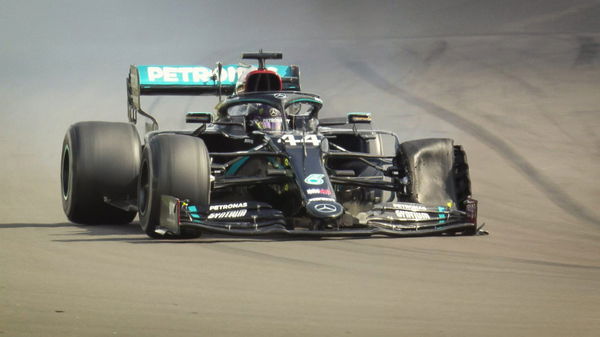 Pirelli tires stopped the British Grand Prix from turning into yet another snooze fest. Not to revel in others' misery, but the unpredictability of rubber made yesterday's Formula 1 race much more enjoyable.
ADVERTISEMENT
Article continues below this ad
But one burning question still remains unanswered. What was the reason behind multiple cars suffering delaminations towards the end of the race?
It isn't uncommon to see tires on F1 cars simultaneously drop off during a stage of the race. At the British Grand Prix, multiple cars suffered tire punctures on the front left in the closing stages of the race.
ADVERTISEMENT
Article continues below this ad
We want to analyze everything 360 degrees: Pirelli F1 chief
Some believe debris from Kimi Raikkonen's front wing played a role in the unpredictable punctures. Another probable cause could be higher degradation levels.
Nevertheless, Pirelli F1 head Mario Isola revealed that the tire manufacturer was investigating the reason behind the tire failures.
"It's a bit early now to give you any conclusion," said Isola, as quoted by Motorsport.com. "It could be high wear because for sure tires with 38 laps or more on this circuit are quite worn. But I'm not saying that the wear is the cause of the issue.
"It can be debris because we had the pieces of the front wing of Kimi that were on track.
"But also some other debris. So that's why we want to investigate not only the tires with a failure but all the tires used in the last few laps of the race, to understand if we find any other cut or any other possible indication on what happened.
ADVERTISEMENT
Article continues below this ad
"We don't want to exclude anything, we want to analyze everything 360 degrees and avoid excluding any possibility because it's a big mistake when you make these kinds of investigations. We have to consider all the possibilities."
Teams will surely contemplate stopping twice for this week's 70th Anniversary Grand Prix. With Pirelli opting to bring softer tire compounds, teams won't be willing to gamble on old rubber beyond a certain point in the race.
Of all the F1 teams, Mercedes will be wary of its cars' tire life this weekend. However, given Mercedes' superior race pace, the Brackley-based outfit can afford to two-stop both its cars without worrying about throwing away a potential win.
ADVERTISEMENT
Article continues below this ad
F1 will go racing around Silverstone once again this Sunday on August 9th.
SOURCE- Motorsport.com, Formula 1- Twitter