Lewis Hamilton Claims Angela Cullen is the Only "Real Physio" on the F1 Paddock
Published 10/26/2020, 7:05 AM EDT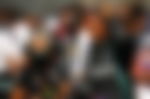 ---
---
Lewis Hamilton achieving success is not something he cherishes alone. In fact, so many people are working behind the scene to see him prop him up on the podium.
ADVERTISEMENT
Article continues below this ad
During Sunday's race in Portimao, Hamilton revealed that he had suffered a cramp, and how it made it a little difficult for him to blitz through to the finish line, which he eventually did without any hassles.
But he has now spoken about receiving medical attention ahead of the next race at Imola on November 1st. What's more, his personal trainer Angela Cullen will aid him in the recovery process.
ADVERTISEMENT
Article continues below this ad
Lewis Hamilton says most F1 trainers 'claim' they are physios
The role of performance coaches and personal trainers has evolved in the world of sports. It has become even more important, where the stakes are high and the margin for error is almost infinitesimal.
Speaking in the post-race press conference, Hamilton is quoted as saying, "Yeah, I will seek medical attention afterwards. Angela is a real physio. A lot of trainers here claim they are real physios but they are not; most of them aren't physios."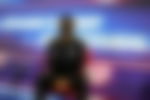 Max Verstappen also jumped in to talk about his past experience. And he believes that though the treatment from Angela was effective, it was not 'lovely' in the beginning.
"She's got strong hands. She's quite… she treated me once, it was not so lovely. Well, it was good but not so very enjoyable initially."
Angela has been Hamilton's physiotherapist for a few years now
In an extremely competitive sport like F1, mental focus and eliminating distractions are particularly important. And Angela's role extends way past the confines of a physiotherapist alone.
ADVERTISEMENT
Article continues below this ad
Performance trainers have to have a track record of understanding the athlete's strengths and weaknesses. Communicating the same, effectively, is an even larger responsibility.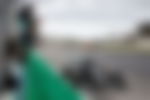 Therefore, she has become an integral part of his day-to-day life, motivating him to further the legacy he has built over the years. And was also one of the happier ones on the paddock when Lewis lifted that winner's trophy at Portimao and created history.
ADVERTISEMENT
Article continues below this ad
Her next task would be to keep Hamilton focused ahead of the upcoming few races as victories at Imola and Istanbul would see the Mercedes driver become World Champion, for a record-equaling seventh time.