"I'm Given This Playboy Image"- Lewis Hamilton Clarifies Assumptions About His "Lifestyle"
Published 10/23/2020, 2:52 AM EDT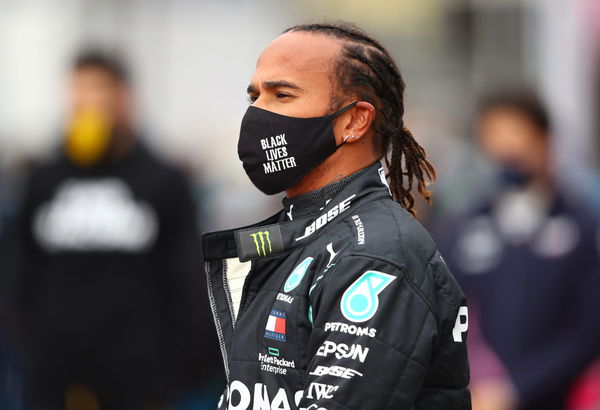 ---
---
For Lewis Hamilton, F1 ranks high among his list of priorities. However, the mantle of the World Champion comes with a certain set of endorsements, duties, and travel commitments.
ADVERTISEMENT
Article continues below this ad
Being a prominent figure also gives rise to a sense of perception amongst the common people. And that may not necessarily be in the right tone or intent.
With the pandemic bringing the world to a standstill, Hamilton has also had the time to reflect on his life. But, he feels that judgement of his lifestyle is a matter of 'assumptions', more than anything else.
ADVERTISEMENT
Article continues below this ad
Lewis Hamilton continues performing on the track like always
The Briton has made quite a few changes to his lifestyle, which have allowed him to balance racing and other interests. And that balance has also contributed to his recent success, with him blitzing the track on race weekends.
Speaking at the pre-race press conference, Hamilton elaborated, "I think people have over the years assumed many things, in terms of how my lifestyle is.
"Of course, you know I do different events and I have a life and interests naturally outside of the sport. I think I've really managed to strike a decent balance.
"But yeah I know that I'm given this playboy kind of image, which is not really me who's used to go home and see me with my family."
Despite all his off-track work, it has not affected Hamilton in any way, who simply continues to perform in the dominant fashion we are all too familiar with.
ADVERTISEMENT
Article continues below this ad
Hamilton does not feel 'rushed' this year
One of the positives from this year for Hamilton has been to get the time to think about a host of aspects in life. That has allowed him to stay centered in his quest for a record-equaling 7th Drivers' championship.
"I think the other years it's been massively rushed and there's been a lot going on. But I think this year has just been different."
ADVERTISEMENT
Article continues below this ad
Regardless of the judgment and criticism, the Mercedes man continues to silence his doubters. If he were to win the next three races, starting with the Portuguese GP this weekend, then he could very well be crowned champion sometime soon.