Twitter Erupts After a Crazy First Lap at the Portuguese Grand Prix
Published 10/25/2020, 9:51 AM EDT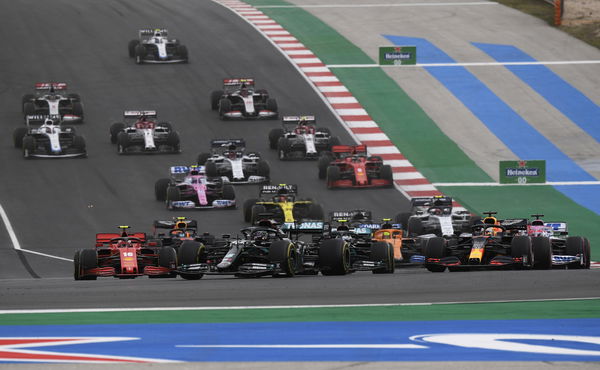 It was the start of dreams for every F1 fan, as the sport provided an exciting first lap start in the Portuguese Grand Prix. The fact that there were some strong winds and droplets of rain only added to the intrigue.
ADVERTISEMENT
Article continues below this ad
As usual, the front row lockout of Lewis Hamilton and Valtteri Bottas saw them take a brilliant start. However, there was plenty of action happening right from the midfield.
In particular, McLaren drivers Carlos Sainz and Lando Norris, who were starting from P7 and P8, immediately increased the pace. The result saw the former overtake both Mercedes cars to take P1.
ADVERTISEMENT
Article continues below this ad
Social media goes ballistic watching the first lap of the Portuguese Grand Prix
Formula 1 is often said to be a 'boring sport' because the stronger teams are often dominating the races. In addition, the racing results do not exactly provide competitive balance, which sees different drivers win races and podiums.
Portimao obviously had different plans for all of us. The Twitter reactions from people around the world say it all.
IT'S RAINING. IT'S ONLY GONE AND BLOODY RAINED!

— WTF1 (@wtf1official) October 25, 2020
WHAT'S GOING ON!!! 🤯

Here comes the rain!!! And the boys are driving on ice out there! 😬

SAI sweeps past VB and leads. LH runs P3.

All cars struggling to get heat into the harder rubber in the early stages. pic.twitter.com/9tUmpGaXEC

— Mercedes-AMG F1 (@MercedesAMGF1) October 25, 2020
With many drivers slipping and swerving, the track clearly did not offer enough grip for the cars. Especially because everyone started either on the Softs or Medium tire compounds, that saw drivers bunch together and unable to keep their starting positions.
Regardless, watching the Portuguese GP's first lap has ensured yet again, that F1 racing is in no way a done and dusted conclusion.
Max Verstappen did not have a great first lap
ADVERTISEMENT
Article continues below this ad
Starting In P3, Red Bull's Max Verstappen made a good start down the straight and even went ahead of Valtteri Bottas. But, as he came round Turn 1, the position was taken back by the Finnish driver.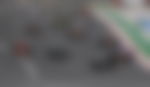 Some drama happened a few seconds later, when Max Verstappen shunted the incoming Sergio Perez from P5. Although the FIA investigated the incident, no further action was deemed necessary.
ADVERTISEMENT
Article continues below this ad
What was also fascinating to watch was Alfa Romeo's Kimi Raikkonen overtake all the way back from P15. At one point in time, he had even reached P6 alongside Max Verstappen.
Bu, these moments only go to show that even the slightest of uncertainties from the drivers in the front grid, can see racing action to a whole different level. And the hope from F1 fans around the world, will be to have many more such exciting races with similar first laps.