"Probably Cost a Liver…": F1 World Scoffs at the $11K Package at the Hyped Las Vegas GP
Published 03/01/2023, 10:45 AM EST

Follow Us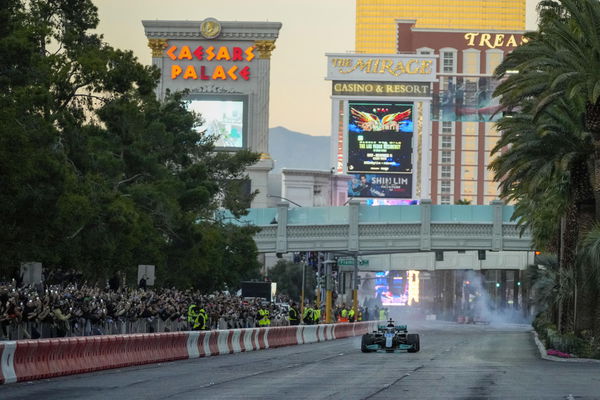 Formula 1 is a spectacle, no doubt. In addition to this, it is also a grand affair with the commercial lucrativeness that is simply eye-watering. But the finances and economics of the sport don't appeal to the fans. See, for the fans, the sport means more than just the revenue potential or the payout teams, drivers, and Formula One Management can take. For the fans, the sport is something that drives joy for them, acts as an escape, and fills them with passion and excitement. Naturally, the only correct way of enjoying the sport is by witnessing it firsthand, live at the track. But as F1 moves on to bigger things and events such as the Las Vegas GP, it seems to be turning its back on the fans.
Being at an F1 track, smelling the burning rubber, losing yourself to the deafening roars of the turbo-hybrid engines, now that's a dream, isn't it? But where the sport is headed, this may just as well remain an unattainable dream for many fans. The inaugural Las Vegas GP is probably the most hotly anticipated race on the calendar this year. Many fans would've been looking forward to making it to the track to witness this historic event. However, F1 has dented these hopes and dreams with an $11k blockade.
.@MGMResortsIntl says the @Bellagio fountain grandstand packages sold out for F1 Las Vegas but it's now putting a second three-day package on sale for $11,247 per person.

🔲 Package includes race tickets, unlimited F&B from celebrity chefs + access to private hospitality decks. pic.twitter.com/4OZpEEH5aB

— Adam Stern (@A_S12) February 28, 2023
ADVERTISEMENT
Article continues below this ad
According to motorsport journalist Adam Stern of the Sports Business Journal, fans would be able to access the event only if they are willing and capable of shelling out a whopping $11, 247. In the grand scheme of things, this is a ludicrous amount of money to be expected of a fan who doesn't belong to the scarcely populated, affluent demographic. And the fans are having none of this!
Fans react as F1 aims to extort $11k for access to the Las Vegas GP
As soon as Stern put this piece of information up on Twitter, fans stormed the social media platform to share their dismay and reactions. One fan even commented, "Geez, that'll probably coast a liver to go attend to see that race :/" 
Let's take a look at just a few fan reactions from F1's unreasonably high Las Vegas demand.
The folks over on Twitter also pointed out the ridiculous disparity between F1 and other American racing series such as NASCAR and IndyCar.
That isn't all, though. Fans also shared their disappointment over how F1 is neglecting the fans to supposedly pocket massive gains.
F1 isn't for the causal fan. We are well aware of this.

— Steve Paris (@StevieParis2) February 28, 2023
And not one person paying that is a fan..just there to flex on IG

— A1911SHOOTER (@A1911SHOOTER) February 28, 2023
ADVERTISEMENT
Article continues below this ad
WATCH THIS STORY: Charles Leclerc & Carlos Sainz Achieve Rare F1 Feat With Colossal Disney Lightyear Collaboration
It's a big club,and I ain't in it.

— John Newton (@jnewtn68) March 1, 2023
ADVERTISEMENT
Article continues below this ad
Is Formula 1 really now just a tool for Liberty Media to make the big bucks? Is the sport being unfaithful to its fans and running away from its roots in a greedy pursuit?
Edited By: Varunkumaar Chelladurai