Question Raised Around Verstappen's Supremacy as Fans Left Stunned With Sergio Perez's Heroics at the Saudi Arabian GP: "Doubt Max Can Win It"
Published 03/18/2023, 3:02 PM EDT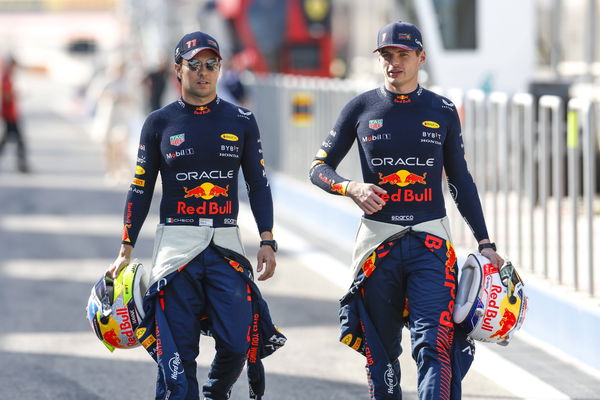 The King of Street Circuits is back!!! In the absence of Max Verstappen in Q3, Sergio Perez rose to the occasion and secured the pole position for Red Bull! Coincidentally, this pole marked the second pole in Checo's career, the first one coming in 2022, on the same track right here! Certainly, the Mexican driver has mastered one of the fastest circuits on the track and is ready to give a run for their money to the Aston Martin, with Max starting in at P15.
ADVERTISEMENT
Article continues below this ad
Being the classy driver and person that he is, Sergio Perez, after qualifying, commented on his teammate's woes and hyped him up following the duo's utter dominance in the three practice sessions. This act, despite him being the second driver in terms of pace during those sessions, has got fans backing him to win tomorrow and tie with his teammate in the championship! 
ADVERTISEMENT
Article continues below this ad
No doubt, it would be a huge task. Locked in with Fernando Alonso for the race, he will have lots of work to do. But certainly, the sheer raw power of Red Bull is underestimated by none. The fans are believing in him strongly, and things are undoubtedly looking good for Perez. In the absence of Max, he will be the leading man for his team as well as his fans. The chemistry between the two teammates has been good overall, except for a few hiccups here and there. Fans of both drivers have rallied behind them, but this time, the Mexican has the ultimate backing and the edge over the Dutchman.
Sergio Perez for the win in Saudi Arabia!
Sergio Perez knows his way around the track. He can get the job done, and the team believes he will. Securing two consecutive poles, when you have the likes of Fernando Alonso and Charles Leclerc, lurking around will never be an easy job. Seeing this, Max Verstappen must've also been served with a check and will not tread the challenge from his teammate lightly.
I doubt Max can win it
Seems checo is working well with the car too.
Checo will be on good strategy as Max too
These are early days of competition you don't priorities one driver.
But podium for Max will be good results.

— Maxwell Phiri (@MaxwellPhiri06) March 18, 2023
Sergio Perez has been hyped up and rightly so. A win for him can possibly spark a good championship battle as well as a team rivalry.
Your looking at the future WDC

— Arturo Fuentes (@arturito10f) March 18, 2023
Congratulations Checo, #1 wish you best for tomorrow's race 🏁 🏎 !!!

— Oscar Arrieta (@Ar19798457Oscar) March 18, 2023
ADVERTISEMENT
Article continues below this ad
Max Verstappen's journey on Sunday will be a long one. A strong pack will stand between him and P2. And then he will possibly find his teammate.
ADVERTISEMENT
Article continues below this ad
WATCH THIS STORY: Bromance moments between Max Verstappen & Lewis Hamilton
Sergio Perez's times have turned around for the better. Will he be able to conjure tricks from his sleeve and win the race? Let's wait and find out.
Edited By: Varunkumaar Chelladurai