Red Bull Gears up for Another Protest Against Mercedes F1 DAS
Published 03/10/2020, 1:03 PM EDT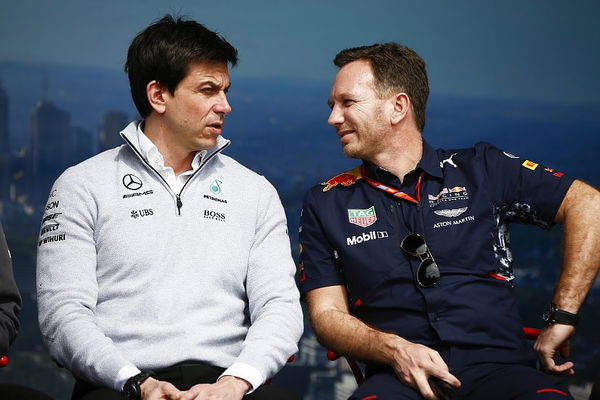 ---
---
Red Bull is ready to dispatch a second dissent against Mercedes F1 in the event that they utilize their dual-axis steering system (DAS) at the season opener in Melbourne.
ADVERTISEMENT
Article continues below this ad
Mercedes F1 presented the innovative framework during pre-season testing with the aim of utilizing it during the forthcoming season. FIA viably prohibited it under the new specialized guidelines in 2021.
Red Bull F1 accepts that the DAS framework from Mercedes doesn't agree to the present Formula 1 guidelines. Foundation: The FIA ​​did not change the guidelines for the innovative steering system until 2021, which created an uproar during the tests in Barcelona.
ADVERTISEMENT
Article continues below this ad
Helmut Marko accepts the impacts of Mercedes' new DAS system are "illegal" as it functions like a "prohibited active suspension".
Marko explained to Auto Motor und Sport: "If you actively change the toe of the wheels while driving, the contact surface of the tires changes.
"And with that – albeit in a very, very small area – the ground clearance.
"But that is forbidden because the system then corresponds to the functioning of a prohibited active suspension."
To utilize the framework the drivers push or pull on their steering wheel which changes the toe of the wheels.
The advantages of that are better tire life, better cornering and it goes about as a drag reduction framework.
Red Bull F1 to protest against the Mercedes F1 DAS system?
This year the FIA gave Mercedes F1 the green light. Red Bull chief consultant Helmut Marko on F1-Insider.com:
"For us, the system does not comply with the rules. So we will protest when Mercedes uses the system in Melbourne."
ADVERTISEMENT
Article continues below this ad
Renault F1 is also preparing for a protest against Racing Point. Reason: Mercedes client Racing Point replicated the Mercedes from 2019 more than permitted. Foundation: Certain parts might be purchased and utilized by different groups. Replicating aerodynamic parts 1:1 is illegal.
This dissent would come around the same time that Red Bull additionally raised a legality issue identifying with Mercedes rear brake ducts. That has brought about the FIA giving a Technical Directive and constrained Mercedes into making some very late changes to their W11.
Have you joined our Formula One fantasy league yet?
Join now: https://fantasy.formula1.com/league/100476?ftm=email
ADVERTISEMENT
Article continues below this ad
You shouldn't need the league code, but just in case here it is: 7ad1c48d7c.