Red Bull Set To Ditch Long Standing Partner Honda for Their $56.25 Billion Ally in a Shocking Turn of Events
Published 11/20/2022, 11:25 AM EST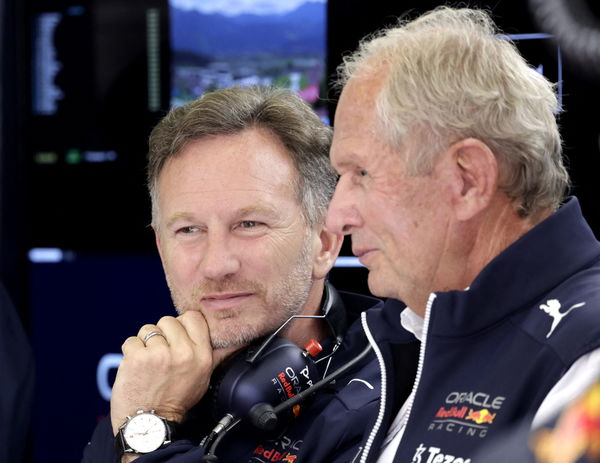 Is Ford coming back to Formula 1? Are they going to tie up with Red Bull, the team that was once Ford Motor Company in 1999? Even though nothing is concrete as of now, there is a possibility of the American automobile giants coming back to the pinnacle form of motorsport.
ADVERTISEMENT
Article continues below this ad
As per the recent report published by Auto Motor Und Sport, the American motor giants have an outside chance of getting back to F1, given everything falls in place. German giants Audi has already marked their debut in F1, with Porsche following and monitoring the matter closely.
ADVERTISEMENT
Article continues below this ad
According to AMUS, senior advisor of the Austrian team, Helmut Marko hinted that Ford, the automobile company, worth $56.25 billion, might just be a favorable partner of Red Bull. It seems that other than Honda, Ford is also interested in partnering up with the Austrian brand. This comes after this year's constructors' champions walked away from the Porsche deal that was in place earlier this season.
With Honda being an interesting candidate for 2026, Porsche can follow suit. However, there is nothing confirmed yet. The only new entry confirmed is of Audi. Moreover, with Honda's help, the Milton-Keynes-based team has been working on their own Powertrains lately.
The Ford and Red Bull history, together
Red Bull, the team that has five constructors' championships and six driver's championships now, started its journey in 2005 when David Coulthard led the team. However, the energy drink company's involvement in F1 dates back to 1995.
ADVERTISEMENT
Article continues below this ad
It was the year 1995 when the Milton-Keynes outfit first decided to sponsor an F1 team and that was Sauber at the time. As the Sauber cars took to the track, the blue-red Red Bull logo flashed, and that was the start of their journey in the pinnacle form of motorsport.
Most importantly, The Austrian team's connection with Ford was established that very year, as the American team was the engine provider for the Swiss F1 team Sauber. However, the big leap was still to come.
The year 2004 saw Red Bull owner Dietrich Mateschitz buy the Ford-owned Jaguar F1 team and rebrand it to the Red Bull Racing F1 team. That's how the journey of this great Austrian team started.
ADVERTISEMENT
Article continues below this ad
WATCH THIS STORY: Max Verstappen and Christian Horner slam Mercedes for trying to 'take shine off' F1 title win after Lewis Hamilton drama
Do you think Red Bull and Max Verstappen can continue this dominant form in the next season as well? Or will it be Ferrari or Mercedes's turn to take the spotlight?