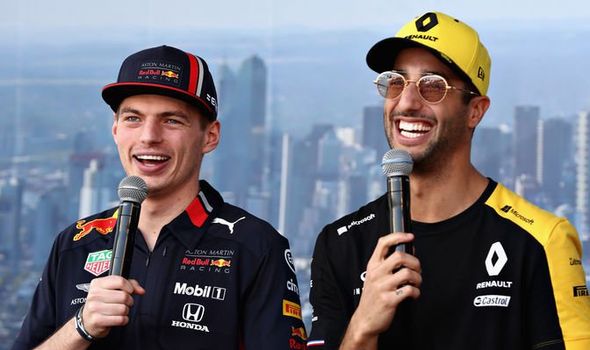 Before Norris and Sainz, the hottest bromance in F1 was Max Verstappen and Daniel Ricciardo. The duo had their ugly moments on track but got along just fine in the paddock. Despite their differences, Verstappen and Ricciardo have a sense of mutual respect. The Dutchman had some nice things to say to his former teammate.
Max Verstappen and Daniel Ricciardo
When Red Bull promoted Verstappen to its team, fans were curious to see how Daniel and Max would get along. Ricciardo was highly rated in the paddock following some stellar performances and Verstappen was the up and coming teenager who never backed down from a fight.
The result was a rivalry that never crossed the line. It wasn't quite Senna-Prost, but sparks did fly on multiple occasions.
Ricciardo and Verstappen were teammates for 3 seasons before the Australian decided to move elsewhere. Some believe Ricciardo's relationship with Max had soured beyond cure, while others attribute his exit to Red Bull's internal politics. Max Verstappen was always going to be Red Bull's chosen one, something maybe Daniel could not digest.
However, despite no longer being teammates, the pair are often seen engaging in friendly banter. The Aussie and Dutchman are often cracking jokes during their post-session interviews – entertaining fans and presenters.

Max on Daniel's current form
Speaking to The Age, Verstappen said:
"Daniel is smiling a lot and he's a very happy guy, but I think he would be smiling even more if he was winning races and being on the podium. I know Daniel and I know Daniel is very fast, so I can imagine last year was not the easiest for him"
"When I first joined Red Bull [in 2016] I was very inexperienced and throughout the years I became stronger and more connected in the team, but he was a nice teammate because we were pushing each other very hard,"
Verstappen also claimed that it wasn't possible to compare the Australian to Lewis Hamilton. However, the Dutchman referenced the fact that Ricciardo beat Vettel in 2014, which was a testament to his speed.
"He was nice to work with, and I loved that time."
Verstappen concluded by saying that his rivalry with Ricciardo was a good thing for the team, due to the pair pushing each other.