Reporter Reveals Comical Aftermath of Max Verstappen's Infamous Outburst in Hungary
Published 08/03/2021, 4:29 AM EDT
---
---
Following the qualifying session at Hungaroring, Max Verstappen visibly looked very bitter after losing out to both the Mercedes. And his anger went up a notch during the press conference when the interviewer, Tom Clarkson, asked him a question regarding the Dutchman's collision with Lewis Hamilton at the race start on Sunday.
ADVERTISEMENT
Article continues below this ad
Verstappen demanded that the interviewers stop approaching him with such questions, as he reckoned he had been answering them since he joined the paddock on Thursday.
However, there was barely any news over what actually happened after the encounter between Verstappen and Tom. Well, here it is. While hosting the F1 Nation podcast episode, Tom revealed that he apologized to the Red Bull driver. However, what he never expected was the kind of response he received from Verstappen.
ADVERTISEMENT
Article continues below this ad
What did the F1 Nation host say?
During the podcast, Tom confessed to Damon Hill that he did upset Verstappen with the question, and that was why he had approached the Dutchman to issue an apology.
"I did upset him. And then, because he was effing at me all of that, so I thought, 'I better apologize for that. But, if I apologize immediately, he's just probably gonna eff at me again. So, I'll do it right at the end'," he told Hill.
"So, at the end, I go, 'I'd just like to apologize for some of the language'. And as I was saying that, Max was walking past me and goes, 'don't apologize for my language'."
Max Verstappen blows up quite easily: Tom
During the conversation with the former F1 driver, Tom reckoned that Verstappen does get triggered quite easily. However, he also felt that the 2021 title contender doesn't necessarily hold on to it, and rather lets go of such bitter moments very easily.
ADVERTISEMENT
Article continues below this ad
"But, you know what? The thing about Max is he does, I think, blow up quite easily, but then, it defuses very quickly, always with him actually," he said.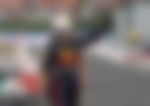 "As he was walking out of the room, he did say, 'I know it's not your fault Tom'. And that was the last I heard."
ADVERTISEMENT
Article continues below this ad
Overall, it looks like things have eased between the duo since the awkward encounter at Hungaroring. But with pressure mounting back on his head after a couple of horrendous race weekends, are we set to witness more such outbursts from Verstappen this year?
Watch Story: 5 F1 Crashes Which Stunned the World