Reports Reveal Toto Wolff Still Wanted to Race Despite Coronavirus Scare in Australia
Published 03/13/2020, 4:40 AM EDT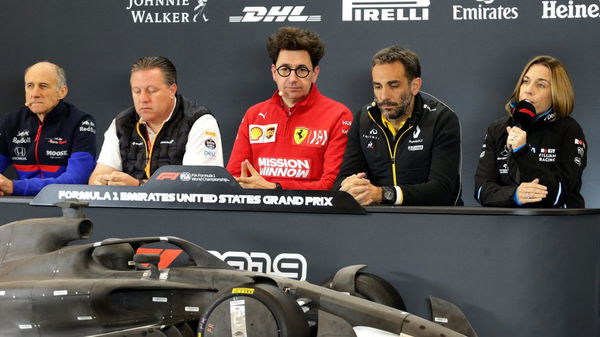 ---
---
According to latest reports, the Australian Grand Prix was precariously close to being held after all. As the FIA and F1 authorities took a back seat, teams stepped up and held a late-night meeting to reach a conclusion regarding the race. Additionally, reports suggest the decision wasn't unanimous and came down to the wire. Allegedly, Mercedes' Toto Wolff was hesitant to cancel the event.
ADVERTISEMENT
Article continues below this ad
The F1 vote that decided everything
With McLaren officially pulling out of the race weekend, all 10 teams gathered together to decide teams' participation. Allegedly, things boiled down to a vote that was inconclusive. 5 teams were for the race and 5 were against, resulting in a stalemate.
ADVERTISEMENT
Article continues below this ad
Auto Motor und Sport reports that Ferrari, Alfa Romeo, McLaren and Renault were firmly against racing on Sunday. Furthermore, the report hints at Mercedes, Racing Point, Williams, Red Bull, AlphaTauri and Haas wanting to participate in the race weekend as scheduled.

It is ironical that Haas was nudging towards a regular race weekend, considering it was the first team to report signs of the virus. As the norm goes with rumours, take these reports with a grain of salt.
Toto Wolff wanted to race
ADVERTISEMENT
Article continues below this ad
Interestingly, Mercedes were gunning for a regular race weekend. Apparently, team principal Toto Wolff received a call from the higherups at Stuttgart signalling a no go. As a result, this may have prompted the Austrian to switch camps and side with those unwilling to race.
As teams were in the drivers' seat, F1 and the FIA silently looked on. However, F1 cleared up all confusion by releasing a statement hours before free practice.
"Following the confirmation that a member of the McLaren Racing Team has tested positive for COVID-19 and the team's decision to withdraw from the Australian Grand Prix, Formula 1 and the FIA convened a meeting of the other nine team principals on Thursday evening. Those discussions concluded with a majority view of the teams that the race should not go ahead" reads an official statement by F1, FIA and the AGPC.
ADVERTISEMENT
Article continues below this ad
If events truly transpired as reported by publications, it highlights a weakness within the F1 paddock. Furthermore, the lack of unity among teams is clearly visible and a troubling sign for the sport's future. Nevertheless, with a serious epidemic looming large over the paddock, unanimity is unquestionable.