Resurfaced F1 Fan Discussions Circa 2001 Reveal Mammoth Impact Made by 'New Boys' Fernando Alonso & Kimi Raikkonen in Rookie Years
Published 04/20/2022, 4:10 AM EDT

Follow Us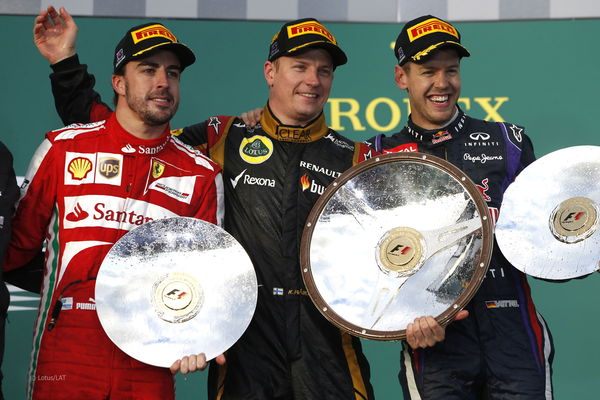 Kimi Raikkonen, Fernando Alonso, and Juan Pablo Montoya made their F1 debut back in 2001. Many of the current F1 fans were only children when these icons started racing. As rookies, drivers are not driving an amazing chassis. Despite that, they are expected to make an impression by standing out.
Kimi Raikkonen and Fernando Alonso were favorite rookies
ADVERTISEMENT
Article continues below this ad
Fan-favorites Fernando Alonso and Kimi Raikkonen have raced together for many years. They were, in fact, title rivals during the 2005-2007 timeline when Alonso conquered two world championships, while Kimi managed a titular stint in 2007. So we can imagine that their outings on the track were nothing short of phenomenal.
A new thread called 'Best of the new boys?', found on the site of tentenths.com reveals how Raikkonen and Alonso quickly became everyone's favorites back in 2001. Kimi, who raced with Sauber F1, and Alonso, who debuted with Minardi, were both irresistible in their first seasons. The comments in the threads were wild as they revealed how good both these boys were.
One said, "Kimi Raikkonen has shown real speed right from the beginning. He is a revelation. But to my mind, Alonso with that under-funded, undeveloped car with lump for an engine has shown real cajones. The boy is brilliant!"
This thread is fascinating. People hyping up Alonso, Raikkonen and Montoya as young rookies

— 🅽🅸🅺🅺🅸𝐕𝑰𝑷𝑺🇪🇪 (@NikkiVips15) April 19, 2022
"Could this be the year of the new boys ? Who do we think is gonna be the best of the new crop ?" said another.
"For sheer spectacle and 'We'll show 'em' attitude, it has to be Alonso. Or Raikkonen. Or Montoya. Oh dear… Help!" was another comment on their driving.
The audiences were excited to find these rookies so talented and cheered on them. One person commented on how good Alonso was against his teammate and said, "Bloody h*ll that Alonso bloke is incredible. Sure, he may only have been 19th in qualifying, but he 3-4 seconds up on his team mate. Amazing. Oh, and fifthteenth in practice this morning!"
ADVERTISEMENT
Article continues below this ad
One can make out from the threads that the Minardi car wasn't the best on the grid. The car's engine was reportedly underpowered, and even then Alonso was phenomenally fast. Kimi, on the other hand, was a revelation in his Sauber chassis. So beyond doubt, the two men had begun to make a statement and wanted to solidify their F1 seats.
Fernando was way ahead of Kimi
Years later, Raikkonen and Alonso paired up for Ferrari in 2014. Kimi did not have the best time, as Alonso kept ahead of him with a supreme margin. Raikkonen was consistently outpaced and out-qualified by his teammate while finishing only 12th that year. Kimi back then opened up about their relationship and said, "As a teammate, I'm kind of certain that there was something odd happening, like between us." 
ADVERTISEMENT
Article continues below this ad
Watch This Story: The Real Truth About the Serena Williams and Lewis Hamilton Dating Rumours
Fortunately, no grudges were ever held by Kimi, who has now retired from F1. Alonso, on the other hand, came back after a hiatus and is still giving strong performances with Alpine F1. However, his time also seems short-lived as younger talents await their chance.
Edited By: Ranvijay Singh