"Retire Man. Don't Tarnish Your Legacy": Broken Lewis Hamilton's Heartbreaking Confession Makes LH Army Slam Ignorant Mercedes
Published 03/19/2023, 7:00 AM EDT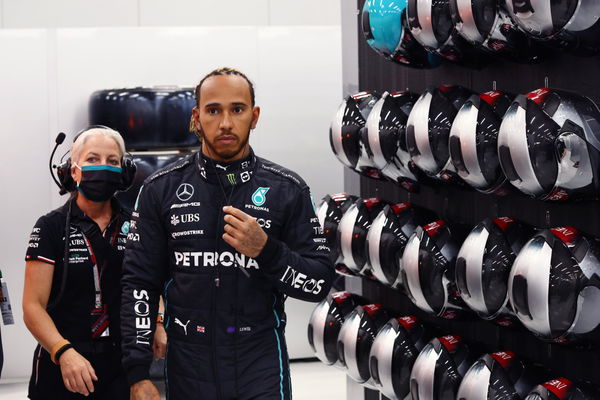 For the second year in a row, Mercedes has failed to provide a competitive enough car to Lewis Hamilton. The Brit has been chasing the elusive eighth championship title since 2021. However, he hasn't been in a position to challenge for the title since 2021. The 2022 season was especially bad for Hamilton. However, as things stand, 2023 seems to be following the same route as 2022. To make things worse, Hamilton's recent interview showcased a rare defeated side of him. A side because of which the fans are letting out their frustration on Mercedes.
The reason behind Hamilton's misery is simple: the car! The W14 is still well below the expectations of the seven-time world champion and Mercedes is doing everything possible to change that. Until then, the Brit is suffering, and he revealed that in his interview with Sky Sports F1 after the qualifying in Jeddah.
"I just don't feel connected to this car"

Lewis Hamilton reflects on his qualifying session and says 'he'll give it everything' on race day 👇 pic.twitter.com/SxHcTs7BMA

— Sky Sports F1 (@SkySportsF1) March 18, 2023
ADVERTISEMENT
Article continues below this ad
When asked about his struggles, he said, "I struggled with the car in high speeds particularly. But I just don't feel the car underneath me. I just don't feel connected to this car and I can't get it. I don't really know what I'm going to do about that."
This is a rare outlook from a usually upbeat and motivated Hamilton. Even though Hamilton pleaded his loyalty to the team, such interviews give rise to doubts and uncertainty.
This weary outlook of Hamilton is a concerning one for the fans and they are showcasing their frustration.
Fans share their frustration toward Mercedes after the downbeat Lewis Hamilton interview
Hamilton was still positive after the race in Bahrain, despite being slower than the front runners. However, after going eighth fastest in the Saudi Arabian GP qualifying, the Brit can possibly predict a bleak future. This is exactly what the fans are frustrated about.
GR seems to be getting a handle on it. Just saying.

— Michael 🏴󠁧󠁢󠁷󠁬󠁳󠁿 🇵🇹 🇸🇩 (@skcollob_ho) March 18, 2023
Strange, Russell seems to be doing ok 👍

— Stephen Guy Robert Kevin Skywalker (@Steve_ChosenOne) March 18, 2023
The fans are pointing out how the events of 2022 are repeating themselves and George Russell is doing just fine in a car with which Hamilton is struggling.
Although, the majority are showcasing their frustration toward the Brackley outfit. The fans are heartbroken at the state of their world champion despite suggestions of retirement from some.
WATCH THIS STORY: WATCH: George Russell's Lonely Moment on Baku Podium Amid Glorious Red Bull Celebration
ADVERTISEMENT
Article continues below this ad
Not sure he'll ever actually leave Merc but cracks are definitely appearing

— Gavin Compton (@GavinGc5) March 18, 2023
If they don't sort this out, he will just get up and leave. Mercedes must be better

— Paul Neal (@PaulNea55605465) March 18, 2023
ADVERTISEMENT
Article continues below this ad
The idea that Hamilton would leave the team if things don't get better for him is something we all can agree with. With the contract extension still pending, and Hamilton's interview, this idea might soon become reality.
Edited By: Varunkumaar Chelladurai