Ricciardo Wins But Hamilton & Verstappen's Dangerous F1 Crash Steals the Show in Crazy Scenes at Italian GP
Published 09/12/2021, 10:25 AM EDT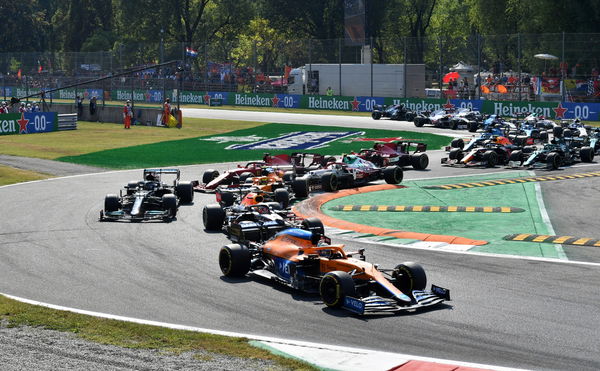 ---
---
After the incredible Italian GP in 2020, the sky was the limit this time around. But, little did we know that this year's race, too, had something special in store for the fans. It is Daniel Ricciardo, who managed to claim McLaren's first F1 victory in 170 races ahead of his teammate, Lando Norris.
ADVERTISEMENT
Article continues below this ad
Meanwhile, the rivalry between Lewis Hamilton and Max Verstappen just spiced up further, as the duo crashed into each other after a scuffle going into turn 1, causing both to retire from the race.
Valtteri Bottas found himself on the podium after fighting his way through the field ahead of Ferrari's Charles Leclerc. Perez did see the flag in P3 but missed out after suffering a late 5-second penalty and eventually fell down to P5.
ADVERTISEMENT
Article continues below this ad
How the F1 race unfolded
Race start at Italian GP
Tsunoda suffered his first DNS of his F1 career, as 18 cars lined up on the grid, with the other AlphaTauri starting from the pit lane. Ricciardo had a brilliant getaway to lead the race going into turn 1. Behind the duo, Norris did initially lose out to Hamilton.
However, the latter had yet another tussle with Verstappen going into turn 4 and ended up running wide off the track, losing P3 to Norris.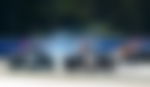 A couple of places behind, a similar story unfolded between Leclerc and Giovinazzi as well. Only in this case, the Italian returned to the track and fell right in the path of Sainz, who clipped the rear of the Alfa Romeo and left it spinning into the barriers.
Meanwhile, Gasly, who started from the pit lane, spent his time on the track for just five laps before parking his car back in the garage.
Perez and Bottas battle through the field as McLaren hold the pack up
While Verstappen and Hamilton were stuck behind the McLaren duo, Perez and Bottas were absolutely on fire. Starting from P19 on the grid, Bottas was already up to P19 by lap 17 following a sequence of interesting moves on the mid-field cars.
Perez, on the other hand, jumped a couple of places up to P6 and was steadily hunting down fifth-placed Leclerc, who was consequently closing down the gap to Hamilton and Norris.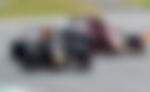 Of course, this unexpected scenario of Ricciardo leading did sabotage Verstappen's race strategy. The Dutchman started the race on medium tires while Hamilton on hard tires.
Hence, the fact that Verstappen's tires started blistering on as early as lap 19 and he was still just around 5s ahead of Hamilton ended up becoming a huge concern for Red Bull.
Pit stop window opens
Race leader, Ricciardo, was the first driver to enter the pits on lap 23 and came out behind Sainz in P7. The very next lap, it was Verstappen's turn. However, the Dutchman had a terrible stop of 11.1s and rejoined the track in P10.
Subsequently, Hamilton made a move on Norris on the very same lap to claim the lead for the first time in the race. Hence, after losing the place to the Briton, Norris pitted on lap 25. On lap 26, Hamilton pitted for a set of medium tires. But, then arrived the inevitable moment of this season.
Hamilton and Verstappen crash out of Italian GP
This was imminent! Hamilton rejoined the track after a slow stop of 4.1s but ended up behind Norris. Verstappen, who was right behind Norris found an opportunity to break past Hamilton and went into turn 1, side-by-side with the Mercedes.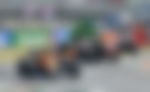 However, the Dutchman ended up hitting the sausage kerb, lost control, and crashed into the Briton. Ultimately, the Red Bull parked right on top of Hamilton's Mercedes in the gravel. Of course, Hamilton desperately tried to get going, but in vain, as his race engineer demanded that he turn off the engine and that the race was over.
Safety car ends at Italian GP
Ricciardo yet again had a brilliant getaway, while his teammate pulled off a fearless move on Leclerc to provisionally make it a McLaren 1-2. Leclerc continued to fall behind Perez and Bottas.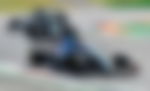 Hence, with just 3 seconds separating the top 4, the fight for the race win was wide open. But, despite Ricciardo holding onto P1, Bottas was certainly the favorite for the Italian GP win. However, to his poor luck, the Finn ended up behind the train led by Ricciardo.
Updated F1 Drivers' Standings
Max Verstappen – 226.5
Lewis Hamilton – 221.5
Valtteri Bottas – 141
Lando Norris – 132
Sergio Perez – 116
Charles Leclerc – 104
Carlos Sainz – 97.5
Daniel Ricciardo – 83
Pierre Gasly – 66
Fernando Alonso – 48
Esteban Ocon – 47
Sebastian Vettel – 35
Lance Stroll – 26
Yuki Tsunoda – 18
George Russell – 15
Nicholas Latifi – 7
Kimi Raikkonen – 2
Antonio Giovinazzi – 1
Mick Schumacher – 0
Nikita Mazepin – 0
ADVERTISEMENT
Article continues below this ad
Updated F1 Constructors' Standings
Mercedes AMG (Mercedes) – 362.5
Red Bull Racing (Honda) – 344.5
McLaren (Mercedes) – 215
Scuderia Ferrari (Ferrari) – 201.5
Alpine (Renault) – 97
Scuderia AlphaTauri (Honda) – 84
Aston Martin Racing (Mercedes) – 59
Williams (Mercedes) – 22
Alfa Romeo Racing (Ferrari) – 3
Haas (Ferrari) – 0
Overall, the triple-header has come to an end with the race weekend at Monza, with Ricciardo winning the last of them. And what a race this turned out to be!
ADVERTISEMENT
Article continues below this ad
Hence, the drivers, teams, and fans can now take a week's break before heading to Sochi for the Russian Grand Prix, scheduled between September 24 and 26.
Watch Story: Mad Max: Verstappen's Angriest Rants on Team Radio