"Robots Delivering Trophies?!"- Daniel Ricciardo Pens Heartfelt Note to Fans Amid "Weird" F1 Atmosphere
Published 09/18/2020, 9:47 AM EDT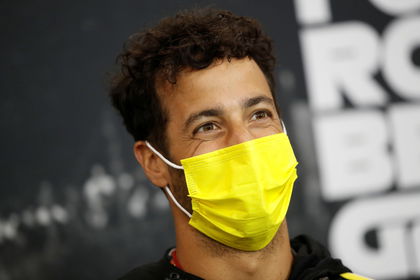 ---
---
Earlier this year, precisely on the 15th of April, Renault driver Daniel Ricciardo debuted his newest idea on Twitter. He decided to start a series of posts titled 'Dan's diary' that would cover his perspective, not only on racing but also on his personal life.
ADVERTISEMENT
Article continues below this ad
His latest diary entry pertains to the 5 things that the Aussie misses the most about F1. The first thing that Ricciardo misses about F1 is 'the fans.'
Ricciardo's tweet says, "We miss you guys, I mean I really miss. There are so many moments each weekend that you notice it that fans aren't there. It's just weird, it's so quiet."
ADVERTISEMENT
Article continues below this ad
Ricciardo also revealed that he's not a big fan of the trophy presenting robots. He said, "I don't think getting your first podium this year would be anywhere near as memorable. The podiums don't look right (robots delivering trophies?) and don't feel right."
The Aussie then talks about 'the travel'. He writes, "We're getting to race on some really cool tracks we wouldn't normally get to this year. But the travel part of what we do is so much of what makes it enjoyable for me. I personally definitely miss that. 
"There's some cool countries we can't get to this year. I miss exploring so much."
Thirdly, he talks about 'the banter and the camaraderie' among the F1 drivers. He says, "Because we are in our little bubble, you don't get the interaction even with other drivers, let alone the people in the paddock."
Daniel Ricciardo misses the driver parades and talks about not taking things for granted
The fourth thing that he misses the most is the fun driver parades. He says, "There's a couple of drivers parades each season that are the absolute standout moments of the year."
He further talks about how much joy and color the fans bring to each race weekend. Ricciardo recalls the example of Monza last year where Charles Leclerc won in front of the Tifosi and the whole place was engulfed in the color red. "That will surely always be one of the best days of his (Leclerc's) life," says the Honey Badger.
ADVERTISEMENT
Article continues below this ad
The last point he talks about is relishing everything you've got. "You definitely don't know what you've got till it's gone. So not having some of these things this year, maybe we'll appreciate it more when we've got it back."
He concludes by saying, "The positive is that we're able to race and I wouldn't have it any other way. But I'm looking forward to normal again. I'm sure you're all feeling the same."
The man from down under certainly brought out the emotion, didn't he? He's definitely one of the most beloved drivers on the grid, and it's great to see him give back some love to the fans as well.
ADVERTISEMENT
Article continues below this ad
He's had two brilliant races, but the podium continues to elude him with Renault. Here's to hoping that he gets to pop the champagne in Russia on the 27th of September.