Romain Grosjean Explains Why Indycar is a Superior Experience Than F1
Published 09/21/2021, 7:52 AM EDT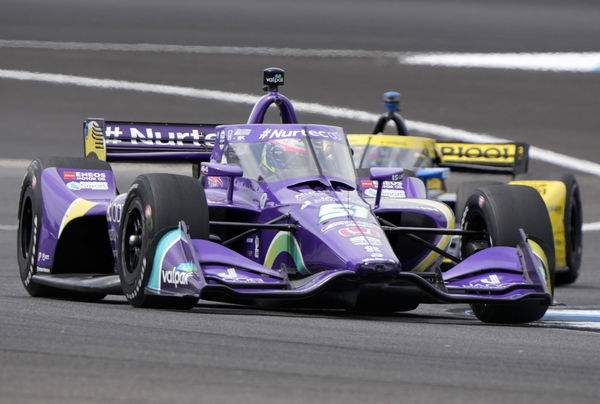 ---
---
Former F1 driver Romain Grosjean has been enjoying his time in IndyCar. The driver had a fascinating P3 finish at the Laguna Seca Raceway on Sunday. Following the podium finish, the crowd roared in appreciation of Grosjean. After a tiresome career in F1, the former Haas driver has explained the fire behind his new career path.
ADVERTISEMENT
Article continues below this ad
Formula 1 is often the number one goal for any aspiring karter. However, having been a part of both worlds, Romain Grosjean has some advice. "I understand a lot of kids want to make it to Formula 1. If it's to be at the back of the grid every weekend, I think you're better here."
ADVERTISEMENT
Article continues below this ad
IndyCar and F1 are two different faces to the motorsport coin. Less tiresome to F1, Grosjean explains the ease of racing at IndyCar. "It's the freedom of driving the car the way you like to drive it." Grosjean believes that the driver doesn't have to worry about factors like modes and tire conditions; the driver can race his race free from such restrictions.
Passionate about the series, Grosjean further elaborated on his love for IndyCar. "You just go in the car, leave the pit lane, then you push every single lap… The ability to enjoy every single lap that we do, enjoy the fact that you can be competitive in any team, makes it that with the atmosphere in the paddock… been just the whole package that I've enjoyed a lot."
Much anticipated success for Romain Grosjean
After bagging his third IndyCar podium, fans went wild for Romain Grosjean. After standing on his car, the driver saluted the crowd as Grosjean and his fans shared their appreciation for each other.
Looking at the support brought Grosjean to tears. "It's difficult to describe. It's just been incredible. I had a podium when I got the ovation (at the IMS road course) and I almost cried, and I don't cry very often. It's been more than anything I could imagine."
ADVERTISEMENT
Article continues below this ad
The Frenchman further dedicated his podium to the fans. "Without the fans, we wouldn't be racing. Without the fans, there wouldn't be any TV viewership. If there's no viewership, there's no sponsor. If there's no sponsor, there's no job. They are a very important part of what we do. But what they give me back is just incredible. So, I wanted to share with them the podium."
ADVERTISEMENT
Article continues below this ad
In the running for Rookie of the Year, Grosjean has had a growing fan base ever since his move to IndyCar. The Phoenix has risen, and it seems like he won't be stopping anytime soon.
Watch this story: F1 Drivers Fighting on Track