Romain Grosjean Reveals Chilling Reason He Wasn't 'Scared' During His Fireball Crash
Published 11/29/2021, 4:28 AM EST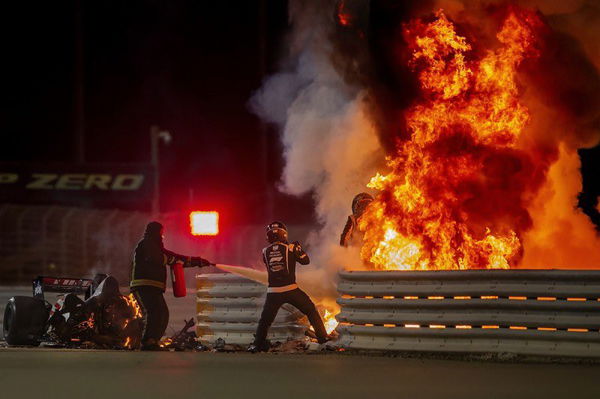 One of the most horrific things witnessed last season was the 2020 Bahrain Grand Prix, where Haas driver Romain Grosjean suffered a horrible accident
ADVERTISEMENT
Article continues below this ad
The French driver had his car engulfed in flames, and the Formula One community feared the worst. Fortunately, Grosjean managed to get out of the car and was taken care of by the medical personal present at the track.
Now in 2021, speaking to Nico Rosberg, Grosjean looks back at the incident and reveals that the thought process he had while he was stuck in the car.
ADVERTISEMENT
Article continues below this ad
Romain Grosjean thinks back to the moment where he thought it was all over
On the opening lap of the Bahrain Grand Prix, Grosjean had collided with Danil Kvyat which sent him into the pit wall. His Haas immediately caught on fire; a site that still horrifies the F1 community. Grosjean took some time before he managed to get out of the wrecked car, The French driver reveals what was going through his mind, while he was trying to fight his way out.
Speaking to Rosberg on his podcast, being asked by the German if he had any fear, Grosjean replied, "No, no I was not scared. You know at that time you can't; you don't have the time to be scared. And as I said, at one point I almost accepted that, "that was it." You know I would be dead, it is quite a strange feeling, and that is obviously something to work on with my psychologist."
"They will say "How can you kinda accept" you know people see your life and so on, no I didn't see any of that. I see peace, and the body that kinda relax, and it is a very strange feeling. I don't want to wish anyone to try it, cause you know it's not something you want to go. But it makes you hundred times stronger, thousand times stronger," Grosjean concluded.
Watch Story: From Serena Williams to Chris Hemsworth: Celebrities Lured by the Glitz and Glamor of Monaco
What's Grosjean doing in 2021?
The French driver left the world of Formula One last season but hasn't parted ways with the world of racing. In 2021, Grosjean put pen to paper with Dale Coyne Racing with RWR.
So far, he has had thirteen starts, finishing in the top-5 in four of the races, and having one pole position under his belt. Seeing him make massive progress in Indycar, it won't be long before the French driver takes his first victory in the motorsport series.
ADVERTISEMENT
Article continues below this ad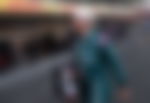 ADVERTISEMENT
Article continues below this ad