Romain Grosjean Reveals Late Night Texts with Sebastian Vettel Over Australian GP Uncertainty
Published 03/26/2020, 11:20 AM EDT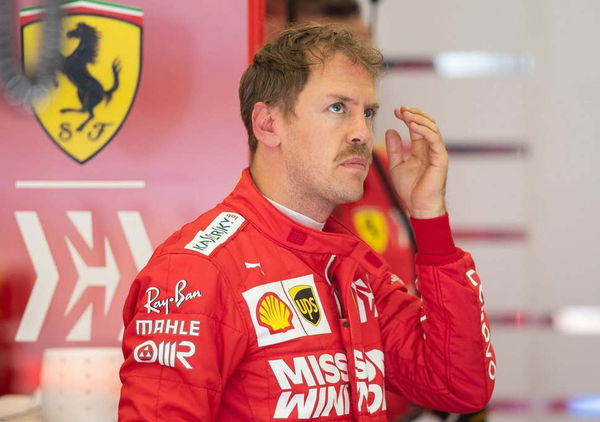 ---
---
In the build-up to the 2020 Australian Grand Prix, uncertainty arose on the feasibility of hosting the race. The coronavirus pandemic had the entire world on edge, but Formula One was not too bothered. This lasted until it struck too close to home when one McLaren employee got infected. The team pulled out and some like Sebastian Vettel took the hint.
ADVERTISEMENT
Article continues below this ad
Recently, in conversation with photographer Kym Illman, Romain Grosjean shed light on a few revelations. Apparently, he found out about rumours that the GP may not go ahead. Owing to a slight bout of insomnia, Grosjean messaged Sebastian Vettel and the latter told him that he was at the airport already.
The Ferrari driver insisted that the race would not go ahead, though Grosjean had not heard anything official. Then, Sebastian Vettel revealed that the Ferrari team told him that he was free to go. As it turned out, Charles Leclerc, Kimi Raikkonen and Lewis Hamilton had the same idea, along with the entire McLaren team.
ADVERTISEMENT
Article continues below this ad
ADVERTISEMENT
Article continues below this ad
What next for Sebastian Vettel and the rest of the pack?
Currently, there is not much that the F1 drivers can do during the coronavirus crisis. They can take a page out of Lando Norris' book and do some sim racing. On the other hand, they can simply relax in self-imposed isolation and keep themselves healthy. Additionally, another option is to get some training in. So that in case the 2020 F1 season kicks off, they can be fit enough to race.
Interestingly, Alfa Romeo boss Fred Vasseur told Canal + that he had already come to a decision. This explains why Kimi Raikkonen also bailed out with Sebastian Vettel and others that night. Speaking of Sebastian Vettel, the 2020 season is a crucial year for him.
ADVERTISEMENT
Article continues below this ad
The German driver has been under fire for his underwhelming performances in the past few seasons. It only got worse once Charles Leclerc stepped into the Ferrari and made Vettel's shortcomings all the more evident. 2020 would be his last chance to prove his mettle or Ferrari would replace him with someone quicker. In the end, Scuderia Ferrari have to focus on the constructor's championship and not the driver's title.
Trending Stories