Russell's Performance at Mercedes 'Confirmed' Max Verstappen as Best F1 Driver: Horner
Published 01/22/2021, 1:20 AM EST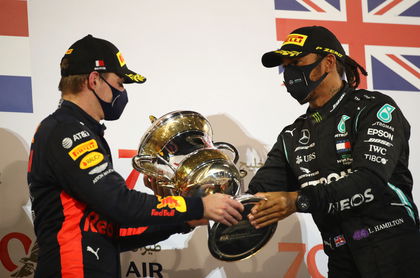 ---
---
There is one question that has remained unanswered for the past 3 years: Is Max Verstappen a better driver than Sir Lewis Hamilton?
ADVERTISEMENT
Article continues below this ad
Well, Red Bull Racing's team principal, Christian Horner, did not keep himself muted and opined that his star driver is better than the 7-time world champion. He did not stop there and went on to grade Max as the "best F1 driver" on the current grid.
Of course, he did not reveal his opinion without a reason. According to the Briton, George Russell's Sakhir GP race struck him with the realization that Lewis was not on par with Max's pace; Lewis had a drivable car in hand while Max had to fight his car out to reach a commendable position.
ADVERTISEMENT
Article continues below this ad
Horner's view on Max Verstappen and Lewis Hamilton
Speaking to RacingNews365, Horner felt that the F1 community should not be blindfolded by the stupendous records set by Lewis. However, the fact that he drives such a powerful car irked the rival team's principal.
"I think he is the best, yes," the 47-year-old said. "Russell's performance at Mercedes confirmed that for me.
"Max and Lewis stand out for me, but while we absolutely should not be blind to all that Hamilton has achieved, he does have access to a good package while Max has to get more and more out of his car."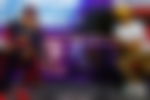 Lewis had a massive backing by McLaren, which eventually turned out to be a gateway for the Knight to join the F1 grid in 2007. Since then, he never really got his hands on a mid-field car, and hence, it remains a mystery as to how Lewis would fare in a much slower car.
Meanwhile, Max's growth was evident from the moment he stepped into F1 with Toro Rosso. And eventually, he found his way up to Red Bull and has been churning every single bit of performance from the car.
They would never reach his level of performance: Horner
Horner compared the Mercedes' Sakhir GP scenario with Red Bull. He felt that it would be impossible for a driver to get up to speed in the Red Bull if Max had gotten the COVID-19 virus.
"You can see that by the fact that a driver from Williams qualified directly on the front row of the grid and almost won the race," he said.
ADVERTISEMENT
Article continues below this ad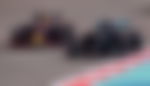 "If someone had to get into Max's car, if he had coronavirus, they would never reach his level of performance."
Both Lewis and Max are currently at their peak and are looking hungrier for more race wins and, ultimately, championship titles. And amid such a competitive rivalry, there is just one way to retrieve an answer to this head-breaking question.
ADVERTISEMENT
Article continues below this ad
If Red Bull can find some performance, and take their team up a notch, Max can finally reach his rival, Lewis Hamilton. Overall, considering their handful of years in F1, who do you think is the best driver on the current grid?