Russian GP Predictions: Can Norris Make It Two Wins in a Row for McLaren F1 at Sochi?
Published 09/26/2021, 7:29 AM EDT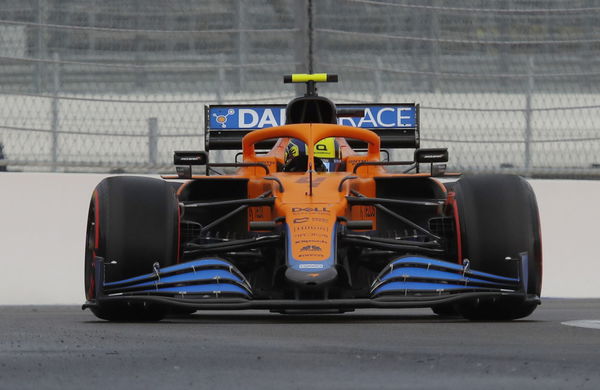 ---
---
The starting grid for the Russian GP has shaken the F1 status quo. With the next generation leading the grid, the race on Sunday promises to be a thrilling one. Further, with four drivers now heading to the bottom, there's a lot to look forward to.
ADVERTISEMENT
Article continues below this ad
As the competition continues, will the usual Ver-Ham-Bot podium make its return?
Race lead battle between Norris and Sainz
ADVERTISEMENT
Article continues below this ad
With his maiden pole position, McLaren look to continue its Monza streak with Lando Norris. The Brit has the car to take him to his first victory, but unfortunately, there are some strong competitors behind him. Rival team driver, Carlos Sainz, shares the front row with Norris but looks to use the McLaren driver as a part of his own strategy.
Neither driver has led an F1 race before; however, it doesn't mean they can't. The likelihood of Hamilton impeding the two drivers seems much more likely. Nonetheless, if McLaren and Ferrari play their cards right, they could have either of their drivers take the win. However, Norris' chance at the top step seems much more likely.
Additionally, Lando has recently seen the same car take a win. The McLaren machine can help Norris convert his maiden pole to a maiden victory. It's not an impossible outcome for Lando Norris.
Hamilton misses 100th win, Verstappen successfully charges ahead
The pressure of the battle seems to be getting to the champion. Saturday's qualifying was dotted with mistakes on Hamilton's part; many similar to those made in his rookie year.
Is Hamilton in the right frame of mind for a race win?
💬 "I'm really sorry to all of the team because obviously that's not what you expect from a champion.

"I'll do my best tomorrow to try and rectify it."

We know @LewisHamilton will be giving it everything he's got to win tomorrow. 💜 pic.twitter.com/njrQC6vqae

— Mercedes-AMG PETRONAS F1 Team (@MercedesAMGF1) September 25, 2021
Further, Hamilton starts fourth on the grid. He is also sandwiched between drivers known for good race starts. Not only are Norris and Sainz blocking his chances for a race lead, Daniel Ricciardo and Fernando Alonso threaten his position from the back.
Lewis Hamilton will have a tough race sketched out for him; even though his teammate has been placed to block off his rival.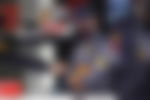 Verstappen has 19 cars to challenge for his shot at victory. While getting past Leclerc and Latifi shouldn't be too difficult for the Red Bull driver, Bottas is the real hindrance. A clever pawn in Mercedes' strategy to overpower Red Bull, Verstappen will have to get past a driver who knows the track a little too well.
However, with his racecraft, Verstappen can pull through. But will it be enough for a podium finish, let alone a victory?
Top 5 predictions of Russian GP
If all goes well for the key players in Sunday's race, we could see a very different race result. Verstappen and Bottas are sure to make up positions and reach the top 10 in no time. Further, if George Russell holds off Lewis Hamilton, who seems to be having an awful weekend; Russell, too, could bring home major points.
Daniel Ricciardo and the pace in his McLaren also have a fair fight for a good race result. The Russian GP doesn't allow for many overtakes, so if Ricciardo keeps Alonso at bay, he can fight Hamilton and Russell for a podium position as well.
ADVERTISEMENT
Article continues below this ad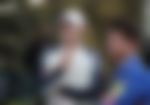 The top five are likely to feature both McLaren drivers, the Silver Arrows and Max Verstappen. However, if the Williams driver holds on tight to his position, he could thwart off any driver who threatens his result.
While the race is as unpredictable as the weather, one thing is certain: Mercedes will leave Russia with their lead on the board, and Verstappen will continue his domination, extending his gap to his title-holding rival.
ADVERTISEMENT
Article continues below this ad
The unpredictability of F1 has only increased this season. Gone are the days of easy wins and predictable outcomes. Will the notorious turn 2 at Sochi strike again, eliminating drivers off the grid? Will we see a fresh podium at Sochi, or will the checkered flag welcome the usual top three? It's all but a waiting game.
Watch this story: Top 5 wins of Max Verstappen's F1 career