Sainz & Leclerc Predict Fresh Tire Problems for Ferrari F1 at Silverstone
Published 07/16/2021, 12:48 PM EDT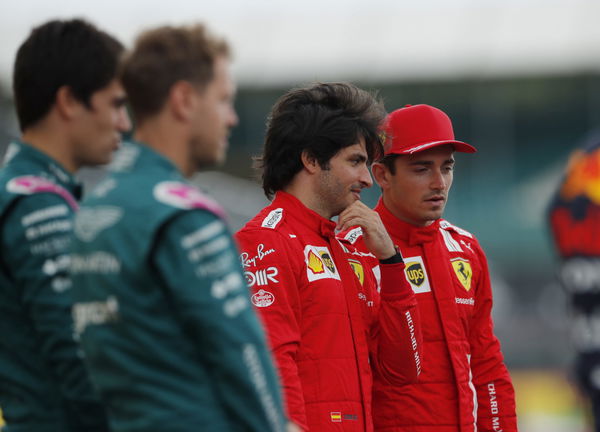 ---
---
The Free Practice session at Silverstone concluded with teams gathering a more astute understanding of their machines. Max Verstappen topped FP1 and McLaren pulled through in the top 10. Their mid-field competitors, Ferrari, out-performed them; Leclerc finished fourth, while Sainz settled for sixth-fastest. However, after testing out the tracks, both drivers share a common fear- Paul Ricard.
ADVERTISEMENT
Article continues below this ad
The French circuit shares similarities with Silverstone. Carlos Sainz explained, "…to put it simple for you guys Silverstone and Paul Ricard is a front-limited track, which means you degrade a lot the front tires and we're expecting to be suffering a bit in the race as we degrade the front tires."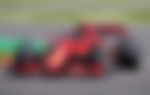 His teammate, Charles gave his input, "This is a track where we could have a similar type of problem [compared to Paul Ricard], so it will be very interesting for us how much progress we have made in these few weeks analyzing this issue and see whether we manage to get rid of that problem or not."
ADVERTISEMENT
Article continues below this ad
 Leclerc stood third on the podium last year because of tire degradation on Bottas' Mercedes. It would be a fair assumption that he could be at the receiving end of the bad luck this time.
Woes of Ferrari explained
Austria proved to be a brilliant circuit for the red cars. Both races at the Red Bull Ring helped the team get enough points to catch up to McLaren on the Constructor's board. Both drivers acknowledged that the reason for their celebrations was the equation between the car and the track. The car put more pressure on the rear tires in Austria, reducing wear on the front.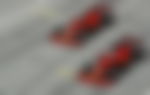 Sainz says, "Austria, you degrade the rear tires, rear limited, and that's why we think we were relatively competitive in the race as we are actually better with the rear tires… if anything it will make things more challenging." Carlos Sainz isn't new to tire problems at Silverstone, having suffered a puncture last season.
Charles Leclerc knows that it's a good track for him, but will his car survive the 52 laps? The Frenchman finds solace in his luck last season saying, "It's been a strong track for me in the past… Hopefully, we are as competitive as last year, with the luck we had last year, and we find ourselves again on the podium."
Silverstone tire drama
Silverstone is a circuit known for tire wear. At the circuit, we often hear drivers complaining about tire vibrations. Last season, Bottas was robbed of the podium because of his front-left puncture. Bottas wasn't the only one. Sainz's McLaren, and more importantly, Hamilton, finishing first on a puncture in the final lap.
ADVERTISEMENT
Article continues below this ad
Tire drama is nothing new to the circuit. The incidents mentioned above are all with the front-left tire. It takes a lot of work around the circuit. There are a lot of fast rights; as a result, the outside front takes a lot of load.
Sainz concluded, "We know our limitations, we know we can struggle on these sort of circuits so we need to be on top of it to hit the ground running." The Prancing Horses left the French Grand Prix with no points. With the new format and added pressure from McLaren, it would be wise for the Italian team to "hit the ground running."
ADVERTISEMENT
Article continues below this ad
Watch this story: Ferrari Strategy Fails We Will Never Forget