Romain Grosjean Explains How He Lost a Shoe in Gripping Recap of Bahrain F1 Crash
Published 12/04/2020, 11:11 PM CST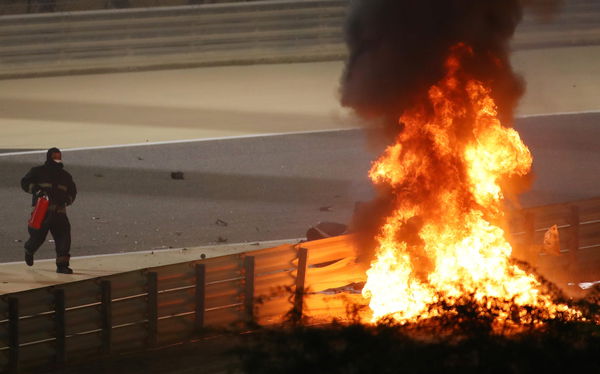 ---
---
Romain Grosjean can consider himself very lucky to be alive today. After crashing and catching fire at turn 3 of the Bahrain GP, he miraculously pulled himself from the wreckage.
ADVERTISEMENT
Article continues below this ad
He had been recovering in the nearby hospital since the incident. However, he is back in the F1 paddock now, but not in a racing capacity.
He gave a very detailed account of his '28 seconds' with destiny. There was a moment during his escape where he began to panic and then eventually accept his fate.
ADVERTISEMENT
Article continues below this ad
"It couldn't end like this, it couldn't be my last race, it couldn't finish like this. No way.
"There's the less pleasant moment where my body started to relax. I'm at peace with myself, and I'm going to die."
Romain Grosjean was facing all sorts of problems
The Frenchman came out of the wreckage with just one shoe. While trying to pull himself from the cockpit, he was facing another adversity, "I realize my foot is stuck in the car. So I sit back down, I pull as hard as I can on my left leg and my foot comes out of the shoe.
"Then I do it again and then the shoulders are going through, and at the time the shoulders are through I know I'm going to jump out."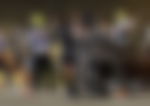 However, the 10-time race winner would not give up so easily. Near to a gratifying death, he sought inspiration from his children. On doubting whether he would come out of that fireball alive, he said –
"I asked my a question: 'Is it going to burn my shoe or my foot or my hand? Is it going to be painful? Where is it going to start?' To me, that looks like two, three, four seconds. I guess it was milliseconds at the time.
"And then I think about my kids and I said, 'no, they cannot lose their dad today'."
ADVERTISEMENT
Article continues below this ad
The Haas driver is truly signifying what it means to have a 'never say die' attitude. His courage and willingness will serve as a source of inspiration for people all around the world.
ADVERTISEMENT
Article continues below this ad
Hopefully, it helps him to bid the F1 world a proper goodbye too. Seeing him behind the wheels of the car once again is all that the fans want. Fingers crossed, his recovery goes well and the F1 community gives him a heroes' sendoff at Abu Dhabi GP.