"Season Is So Cursed": McLaren Fans Hold Their Heads in Disbelief as Lightning Strikes Lando Norris – Oscar Piastri
Published 03/19/2023, 1:51 PM EDT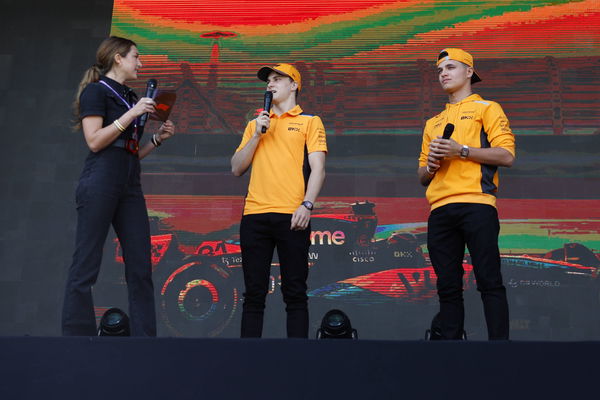 A double blimey situation for McLaren and its boys as they face the worst opening lap in probably their existence. The horror show for the Woking-based outfit still seems to continue even after Oscar Piastri's mega performance yesterday. The veteran at McLaren, Lando Norris who got a DNF in the curtain raiser at Bahrain had the worst qualifying yesterday, and the bad luck seems to continue even in the main race at Jeddah.
Oscar Piastri pulled a Norris on Lando yesterday when he outperformed him like the latter used to do with Daniel Ricciardo in the previous year. And while that was the silver lining, the Papaya team was looking for the opening lap to let all hell loose, as both the drivers had to get a new front wing, putting them behind everyone else in the running.
ADVERTISEMENT
Article continues below this ad
Lando Norris is the most bankable one-lap qualifier, but he started p19 in today's race, and picking up debris possibly from his Australian teammate now runs at the bottom of the tally. Talk about having a bad day.
McLaren fans seem done due to the team's bad luck
An exchange of bad luck between the teammates has led to the orange team leading the race from the bottom. The McLaren superstar Norris and their new recruit have been hit with some ill omens. And it's not just a slow car that they intended to turn around in the coming Azerbaijan Grand Prix. Take a look at some comments from F1 Twitter mentioned below:
This season is so cursed. Ridiculous. At this rate, I'm convinced the Baku upgrades will somehow make us slower.

— ً (@utdrobbo) March 19, 2023
ADVERTISEMENT
Article continues below this ad
This happens when you strive to get sponsors instead of building a good car

— Zaki Azul (@ZakiAzul) March 19, 2023
ADVERTISEMENT
Article continues below this ad
Watch This Story: F1 Stars Max Verstappen & Lando Norris Go Wild With Their Girlfriends in Monaco
Do you think the Papaya team will see a turnaround soon enough or did the better luck leave them with the unceremonious ousting of Ricciardo? Are you a Papaya fan? Let us know your thoughts in the comments section below.
Edited By: Varunkumaar Chelladurai