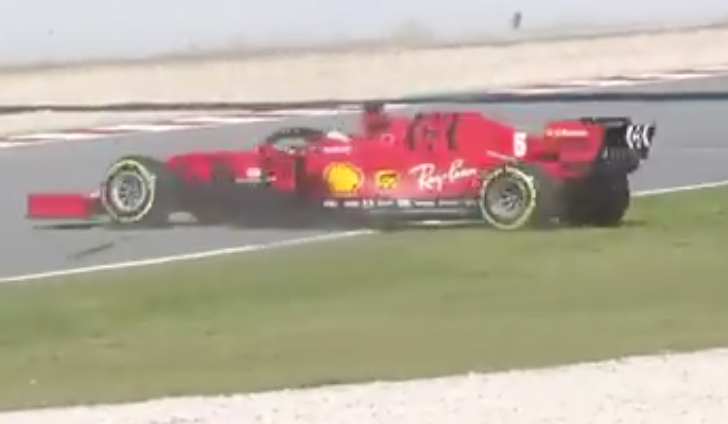 Over the past few season, Sebastian Vettel has been known to get involved in spins or on-track incidents. Even in 2020 he is at it again, this time it was during the second pre-season test in Barcelona. Upon exiting turn 7, he got a bit of oversteer and it sent him partially onto the gravel at turn 8.
Vettel performed a small half spin, before doing a full 360° in the other direction. Luckily, he was able to avoid clattering the wall and continued on his way. Unfortunately, he and every other car on track had to head back in due to the red flag being waved.
Apparently, his little excursion dumped a fair amount of debris on the circuit. So, the session had to be stopped so that the marshals could clean up the track.
🚩 RED FLAG 🚩

Seb slides through the gravel at Turn 8 😨

He returns to the pits, but there's gravel to be cleared#F1 #F1Testing pic.twitter.com/RmIeDZ47Wp

— Formula 1 (@F1) February 26, 2020
Sebastian Vettel: Spinner Supreme
Last year, one of his most notable spins, was at the Italian Grand Prix in Monza. At the Variante Ascari chicane, Vettel lost control of his Ferrari and went off the track.
He scrambled back onto the track and regain lost time, but forgot the cardinal traffic rule. Sebastian Vettel failed to look left and right before rejoining the track. Needless to say, Racing Point's Lance Stroll got the nastiest surprise of his life when Vettel's recovering car suddenly appeared in his field of vision.
The SF90 tagged the Racing Point and sent it into its own spin. Stroll was also lucky to avoid a repeat when he tried to rejoin the race. Pierre Gasly's quick thinking and brief trip to the gravel prevented more carnage.
Aside from that hairy incident, Sebastian Vettel has been involved in plenty of spins. The 2018 USA Grand Prix and the 2018 Japanese Grand Prix were notable examples. He even had another one in the post-2019 test in Abu Dhabi