Sebastian Vettel Discloses His Devotion for Cycling – "Isn't About Going As Fast as You Can"
Published 01/21/2022, 7:09 AM EST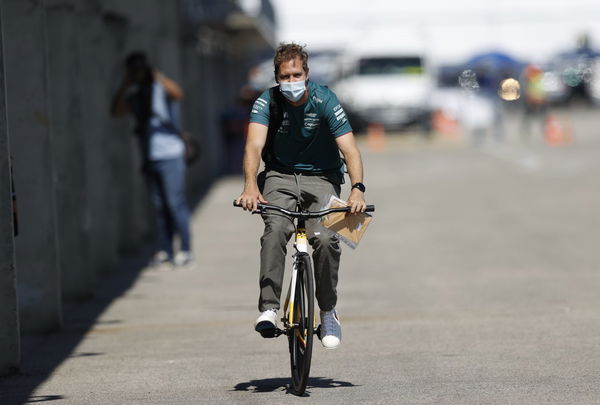 Cycling has become a growing commonality in Formula 1. From track walks being shifted to two wheels, cycling in the off-season; and even competitively with Valtteri Bottas, or just switching to the more eco-friendly option. Sebastian Vettel, although a firm believer in the latter point, shares his passion for cycling, something that both aids his F1 career and gives him something to look forward to after.
ADVERTISEMENT
Article continues below this ad
The sport can be extremely beneficial to F1 drivers, especially in terms of aerodynamics, handling, and even reaction training, all on top of the necessary cardio. For Vettel, training on two wheels is a means of fitness, as well as transportation.
ADVERTISEMENT
Article continues below this ad
For fitness, the four-time champion looks to his cycling idols, Jan Ullrich and Lance Armstrong; in fact, he took Armstrong's 500 watts target and it soon became Vettel's goal. "I think I only lasted about a minute or maybe a minute and a half at 500 watts–my respect for what they can do is huge."
Vettel likes to get the miles in his indoor cycling, something he considers being the basis of his F1 regime. "Driving a Formula One car is an endurance sport, from a young age I followed a regime which is similar, I suppose, to what I do now, working at intervals to boost my base fitness."
However, Vettel also stays away from automotive devices that could make him more competitive than he needs to be. "I'm really competitive and I think if I start getting involved in them then my competitive edge will take over and I'll forget the reason why I'm training, it's not to be fastest on these apps but to be fit enough to drive an F1 car."
Sebastian Vettel shares retirement plans
Although a part of his vigorous training, cycling means more to him. "For me, riding a bike isn't about going as fast as you can. The sense of personal achievement you get from cycling is such a huge reward; getting to the top of a climb, it's the best."
ADVERTISEMENT
Article continues below this ad
The rewards are beyond a fitness fix for Vettel. "Riding to the circuits isn't about getting an extra bit of training in. I find it much more pleasurable than sitting in a car in traffic. Most of the races are in busy cities and if it's 20 minutes by car in traffic or 20 minutes on a bike–a million times over, I'll choose the bike."
When asked by Cycling Weekly if his passions would drive him to a career in cycling after F1, Vettel was open to the idea. "I've always found bike couriers fascinating – I've always wanted to do it, the thrill of riding flat out through a busy city. That's something I love and something I'd really like to do. I'm jealous of those guys!"
ADVERTISEMENT
Article continues below this ad
Sounds like the perfect retirement plan for Seb!
Watch this story: Biggest Pitlane Mishaps Featuring Hamilton, Raikkonen & Verstappen