Sebastian Vettel was recently speaking at the FIA press conference at Circuit de Catalunya. He gave a strong statement on his future in F1 and the new dynamics with Charles Leclerc in Ferrari.
Vettel was quick to dodge the questions regarding his future in Ferrari F1. He clarified that Leclerc's presence in the team won't affect his decision about his future.
And on being asked how does he feel when Leclerc signed a major new deal while his future remains undecided.
Vettel said, "I was quite happy for him."
"I don't see why it should have been painful,"
"I think right from the start I had a good relationship with Charles and I think we get along," said Vettel. "Obviously he's in a very different stage with his career than I am. So I'm aware of that. But I don't think ultimately it matters too much."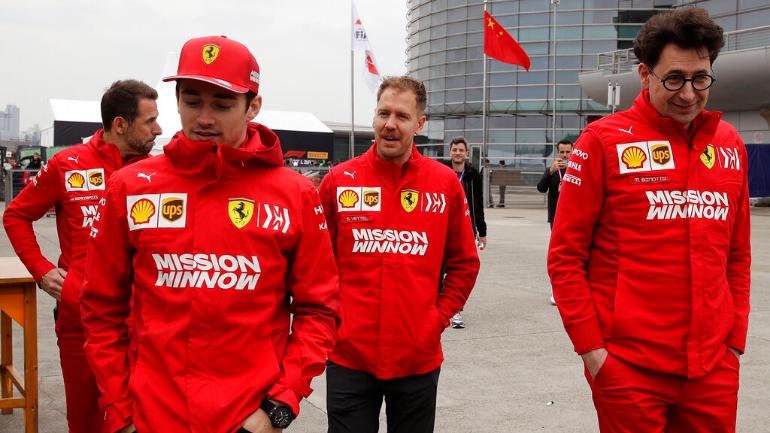 Mattia Binotto has already said that Vettel is their first choice to partner with Leclerc for 2021. And Vettel confirmed that the situation is "vice versa" as far as he's concerned.
Read More: Sebastian Vettel Offered a Contract for 2021 by Ferrari F1 – Reports
Sebastian Vettel On The New Car Designs
He expressed his amusement and said that the cars feel ultra-fast, the fastest they ever have been. The only downside is that there's still a bit too heavy for low-speed driving. He also expressed his views about the 2021 regulation change and its effect on car design and performance.
He added, "Obviously I don't know how the cars [will] feel next year and what are the current predictions and so on. But as a driver, it's always exciting to go fast and these cars are very, very exciting to drive."
"But right now the highest priority is the car down in the garage and making sure that we squeeze everything out, we learn as much as we can, so right now, it's not that important."
Charles Leclerc joined the Ferrari team last season and was able to outscore Vettel in their first season together. The pair had some minor disagreement on several occasions over team orders. And a collision forced both of them to retire from the Brazilian Grand Prix last year.
During the winter break, Leclerc signed a new five-year contract to drive for Ferrari until at least 2024. Whereas, Vettel's current contract expires at the end of this season.