Sergio Perez All Set to Bring Down High-Flying Red Bull Teammate Max Verstappen at Miami GP
Published 05/04/2022, 12:16 PM EDT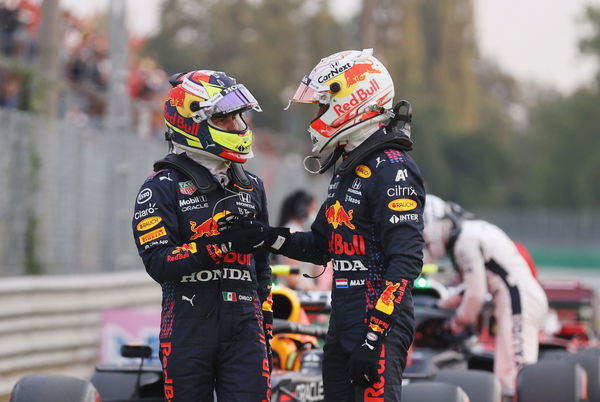 The Red Bull enjoyed a fantastic weekend in Imola this season, with Max Verstappen and Sergio Perez finishing 1-2. However, Verstappen had an upgrade for his phenomenal pace, and Perez will get the same for the upcoming Miami race.
ADVERTISEMENT
Article continues below this ad
The Dutchman had the fastest car in the Emilia Romagna GP, thanks to the upgrades in his RB18. The Austrian constructors were able to shed 4kg from Max's car, which gave him the extra pace. Meanwhile, his Mexican teammate was driving an RB18 without those upgrades.
🚨| Red Bull's updates in Imola helped lighten Max Verstappen's RB18 by around 4kg.

Sergio Perez will receive this update in Miami due to a lack of time to produce them.#F1 [Corriere]

— LC (@LappedCars) May 3, 2022
ADVERTISEMENT
Article continues below this ad
Checo will receive the 4kg lighter 2022 challenger for the upcoming race in Miami. Perez already showcased phenomenal pace this season, and that upgrade would give him achieve better speed at the Miami Grand Prix.
Red Bull was suffering from an overweight car this season. Although, they were the fastest at the straights, now losing around 4 kg will give them more pace. Further, the Miami International Autodrome features three straights, so the Bulls will undoubtedly have a more significant advantage.
Sergio Perez is close to Max Verstappen
The 32-year-old Mexican joined the Milton Keynes base last season and became teammates with the generational talent, Max Verstappen. However, Checo and Verstappen resonated since their first race, and their bonding only grew stronger over the 2021 season.
Who can forget Perez's team play in the 2021 season finale at Abu Dhabi? Sergio defended against the seven-time world champion Lewis Hamilton to let Verstappen not only join the fight again but also win it. As of now. the bonding between Checo and Max is stronger than ever.
ADVERTISEMENT
Article continues below this ad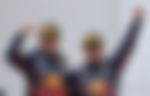 After finishing 1-2 at the Imola race, the Red Bull duo appeared together at the podium. After the race, Sergio Perez revealed that it was his idea to appear on the podium stage together with Verstappen.
Perez said, "We were about to go out on the podium, and I told him to go out together, and he said yes. We discussed it with Alex (F1 podium organizer), and we went out. It was a good message for the whole team."
ADVERTISEMENT
Article continues below this ad
WATCH THIS STORY: F1 Drivers Fighting on Track
This season, Checo is looking way more comfortable in the Red Bull car, even outperforming Verstappen in a few races. Let's see if the Red Bull duo can repeat the Imola results at Miami again. Do you expect Verstappen and Perez on the podium together again at the inaugural Miami GP?