'Small Differences' Between F1 Frontrunners Ferrari & Red Bull That Could Make or Break 2022 Championship Run
Published 05/14/2022, 2:13 PM EDT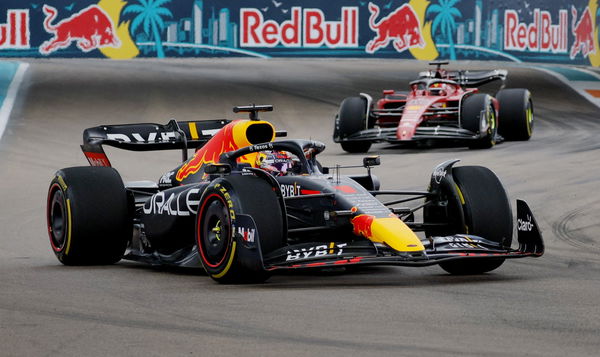 2022 being the new era of Formula 1, regulations have seen different directions taken by teams. Whether it be Aerodynamics, Suspension geometry, etc. Teams will find any way possible to extract as much performance as possible. But with upgrades becoming more frequent per race, it seems like teams like Red Bull and Ferrari have started to converge on a key area according to Gary Anderson. 
ADVERTISEMENT
Article continues below this ad
While Red Bull brought no upgrades to the Miami GP and Ferrari went against running the new rear wing; there was a small tweak on the F1-75. Ferrari brought a new longer-chord front track rod. All of the links are regulated to an aspect ratio of 3.5:1 and a maximum angle of +/- 5 degrees to the reference plane. Hence, you can't get too carried away, but one can influence the coming from the front wing. 
Parafina en la rueda delantera izquierda del Ferrari. Se ve perfectamente el flujo de aire a través de los trapecios y toma freno.

Flowviz on Ferrari's front left corner. Note how the flow is moving around wishbones and brake duct. #F1 pic.twitter.com/QtlQ0GeMGx

— Albert Fabrega (@AlbertFabrega) May 7, 2022
ADVERTISEMENT
Article continues below this ad
So when compared, the Ferrari has its track rod in line with the forward leg of the top front wishbone. Red Bull, on the other hand, has its track rod lower and just above the forward leg of the bottom wishbone.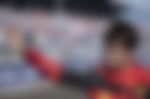 Hence the Ferrari has two aerodynamic profiles when compared to the three of the Red Bull. It all depends on which profile can better manage the airflow and having another aerodynamic profile helps. As Anderson notes, "These are small differences, but such details can have a big impact on the car's performance."
Ferrari vs Red Bull: The development battle in 2022
Arguably, Ferrari and Red Bull have set the standard for pace this year. And Max Verstappen and Charles Leclerc seem to be in a league of their own. But with budget caps this year, top teams can't be upgrading all the time. Ferrari's Mattia Binotto believes that the budget cap will halt Red Bull at some point; swinging the advantage back to Ferrari.
Motorsport-Total.com estimates Red Bull has already  75% of its development program. Helmut Marko, on the other hand, did not take this kindly and responded to the Maranello-based outfit's claims. 
ADVERTISEMENT
Article continues below this ad
"I don't think we are in a significantly different position than Ferrari in this respect," Marko said.
Helmut also added that Ferrari's Carlos Sainz and his shunts weren't cheap either. The Spaniard had suffered massive shunts in Imola and Miami; this must be eating into Ferrari's budget. With Ferrari confirmed bringing new updates to Barcelona, which include a new floor to help run the car at a lower height and reduce porpoising. Red Bull is also set to bring upgrades that will help bring to the 798 kg limit. 
ADVERTISEMENT
Article continues below this ad
Hence when we go racing in Barcelona, it will interesting to see who wins the Spanish duel.
Watch This Story: F1 Stars Max Verstappen, George Russell Enjoy Miami Heats Dominant Surge at NBA Playoffs